Why Kids Should Learn to Play Golf
If you'd love for your kids to have better manners, patience and really learn the value of practice - try playing golf. Golf is a sport for a lifetime and is a great sport for children to learn to play. They'll learn life skills and it's something you can do as a family.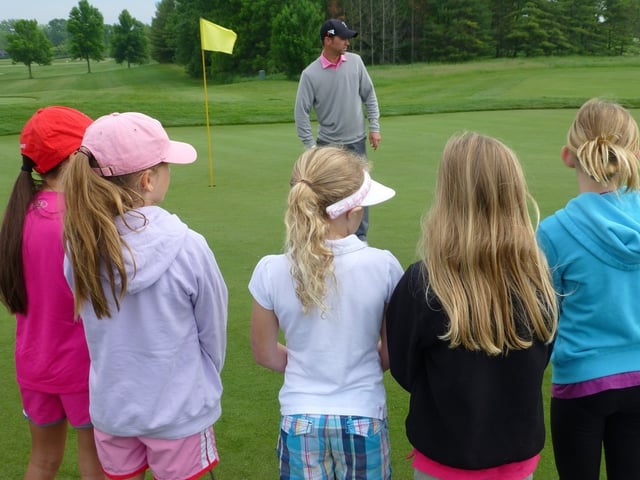 Manners are a big part of golf. Many courses have dress codes players must follow and tee times are not an estimate - you must be punctual in order to play! On the course, golf's rules and etiquette are wonderful for children to learn. They'll learn to respect other players and be quiet when someone else is teeing off or putting.
Honesty is another life skill children can learn from playing golf. They'll need to accurately record their scores and be honest about where a shot landed. Learning respect and honesty will serve them well later in life and business. There's a reason why people say you can learn more about a person in four hours on the golf course than in 10 hours of boardroom meetings.
If your child struggles to have patience or practice at something, golf can also be a great tool to help instill those values. Golfers know how many times it takes to perfect a swing or improve a small part of their golf game. These skills of patience and practice learned on a golf course will serve anyone well in other areas of their lives.
Golf is also a wonderful sport to get kids active and enjoying competition. Walking a course is great exercise and children will learn about flexibility and stretching as they warm up to play. Since golf is an individual sport, children will learn about competition from the foursome they're in - as well as how to stay motivated on their own.
If you want to get your children started in golf - consider golf lessons. They'll learn the basics as well as start playing with good fundamentals.

Hazeltine National Golf Club is a private golf club located in Chaska, Minn., about 30 minutes southwest of downtown Minneapolis. The club opened in 1962 with a mission to build and maintain a golf course suitable for the conduct of national championships. Hazeltine is one of only two courses in the United States to have hosted the U.S. Open, PGA Championship, U.S. Senior Open, U.S. Women's Open, U.S. Amateur, and Ryder Cup. Hazeltine's meeting and event space, golf shop and specified services in the learning center are open to the public. More information about becoming a member at Hazeltine is available at www.hazeltinenational.com.
Topics: Golf Tips