It seems that dietary restrictions are everywhere. Planning a special event like a wedding dinner can seem overwhelming: Aunt Sheryl is a vegetarian, your ring bearer has a peanut allergy, and the groom has celiac disease. And the restrictions can range from elective to life-threatening. The Chefs at Hazeltine National Golf Club are prepared to feed anybody, no matter what the restriction.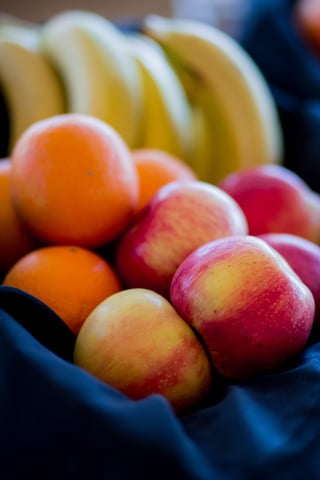 Navigating food allergies is becoming common place for weddings and special events
We understand the importance of actually sterile kitchen conditions when accommodating dietary needs. "Celiac disease is a matter of the molecular level of food," Chef says. "You can't fry things in the same oil, bake things on the same pan. It all matters." This awareness and attention to detail exemplifies the care Hazeltine chefs bring to each event. "We won't just apologize and give you an extra plate of vegetables,. We're willing to work with anything and we'll make sure you're getting a full, high-quality meal."
Hazeltine is dedicated to making your event one to remember—and one that everyone is happy with. Whether it's food allergies, or just a preference, we want clients to leave as happy as possible. "If the father of the bride wants a sirloin steak but wants his guests to have chicken, that's exactly what we'll do." That being said, quality is not compromised on any dish. "The best compliment I've ever received was 'Chef, that was the best banquet meal I've ever had.' That's my goal every time." Each meal prepared in the Hazeltine kitchen is fresh, made from scratch, and fully seasoned. Everything in the kitchen is made from scratch, even the cooking stocks. "It takes a little longer, but it always tastes better."
When you come to Hazeltine National Golf Club, it doesn't matter whether you're bringing a dairy allergy, a gluten allergy, or just a huge appetite, we will be ready to prepare an exceptional meal for you. Our dedication to quality and freshness guarantees a delicious meal prepared for anyone to enjoy.
Hazeltine National Golf Club is a private golf club located in Chaska, Minn., about 30 minutes southwest of downtown Minneapolis. The club opened in 1962 with a mission to build and maintain a golf course suitable for the conduct of national championships. Hazeltine is one of only two courses in the United States to have hosted the U.S. Open, PGA Championship, U.S. Senior Open, U.S. Women's Open, U.S. Amateur, and Ryder Cup. Hazeltine's meeting and event space, golf shop and specified services in the learning center are open to the public. More information about becoming a member at Hazeltine is available at www.hazeltinenational.com.
Topics: Sports Banquets, Weddings, Meetings, Galas, Events