If you've been to a fundraising gala, you know all about silent auctions. They are a staple of most charity events and a critical form of revenue for the hosting organizations. Yet not all silent auctions are created equal. In fact, some simply are better run and organized than others, some generate more revenue than others and some will leave guests feeling better about their experience than others.
Not all silent auctions are created equal
So, how do you make your silent auction a success? Hazeltine National Golf Club has been host to countless benefit golf outings and funraising events for organizations in Chaska and the Twin Cities. Here are a few things we've learned about silent auctions that might help you in planning a charity gala.
Signage
As simple as it sounds, make sure your silent auction is set up in a space that has clearly marked stations. It's important that your guests know where to go and what to do. Sometimes as organizers, you can get too close to your event and not see it through the eyes of your guests and what makes sense to you may not make sense to those who are holding the checkbooks! Here is a simple example of signage from a recent event at Hazeltine.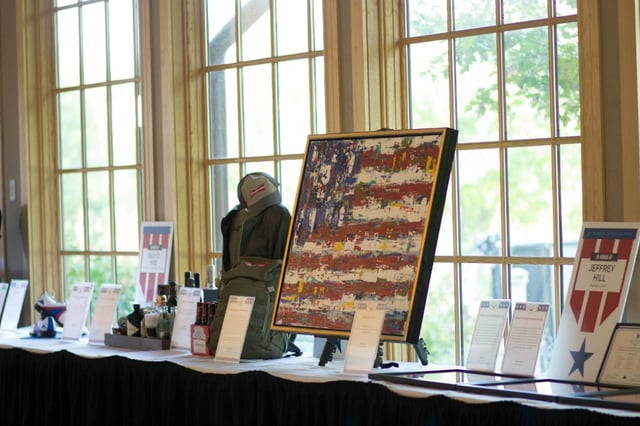 A Staging Area for Auction Items
One of the real thorns in the side of gala attendees is a slow check-out for auction items at the end of the night. Typically, people are tired and ready to head home after an emotionally exhilarating evening and the last thing they want to do is wait in lines for their items. At Hazeltine, we're fortunate to have a staging area that is highly effective in expediting the check out process. Perhaps other venues have the same luxury. When our guests hold silent auctions in our pre-function area, their volunteers will move auction items from the floor in the pre-function space into a staging area. Here items are clearly marked and prepped for hand-off at the end of the night. Here's our catering sales manager, Jan Hillius talking about how we do this at Hazeltine.
Great Volunteers
Of course, the unsung heroes of every wonderful gala event are the volunteers. As it relates to the silent auction your volunteers will play a critical role. First of all, be sure to take great care of these folks. They are the hands and feet of your organization, especially on this night. A good idea is to feed them early on so they can eat and then help support the silent auction. They can then help retrieve items from the pre-function area and move them to the staging area where they can be prepared, labeled and set for pick-up. They also play an important role in the set up - making sure that items have the correct bid numbers and that the bid sheets correspond as well. Rely on your volunteers, they want to help and are ready to go to work!
Pre-Function Space
This has been referenced above and be sure to not underestimate the value of this space. At Hazeltine, our pre-function space is just outside the ballroom, which fortunately, has doors. We recommend that you close the doors to the dining room until the silent auction has ended and your guests are ready to move in for dinner. This will ensure that the guests are focused on the silent auction and will encourage them to bid on items. This also allows servers time to prepare the dining room in advance. Here's Jan again with the benefits of this arrangement.
Silent Auctions Should Flow
This often comes down to the space that you have to work with, but regardless, consider the flow of the silent auction. Begin with where the guests come in and enter the space. Give thought to the space that is available for free movement. A silent auction in which people feel crammed is uncomfortable and often frustrating. Let your guests get into the flow of the auction - create more space for larger items and also try to group smaller items together. Rather than have several small ticket items spread out, see if there's a way to bundle items together. This can potentially drive a higher bid and it helps to create more flow throughout the auction.
These are just a few things that we've learned along the way serving our guests in the Twin Cities. What have you learned? Share with us some of your thoughts and tips. We look forward to reading your suggestions.
Hazeltine National Golf Club is a private golf club located in Chaska, Minn., about 30 minutes southwest of downtown Minneapolis. The club opened in 1962 with a mission to build and maintain a golf course suitable for the conduct of national championships. Hazeltine is one of only two courses in the United States to have hosted the U.S. Open, PGA Championship, U.S. Senior Open, U.S. Women's Open, U.S. Amateur, and Ryder Cup. Hazeltine's meeting and event space, golf shop and specified services in the learning center are open to the public. More information about becoming a member at Hazeltine is available at www.hazeltinenational.com.