Is your love so strong you just can't wait to pop the question and seal the deal ASAP? Planning the wedding of your dreams takes time, but that doesn't mean that you need an entire year to make all those dreams come true. With the growth of the wedding industry, most couples start planning, setting budgets and booking vendors at least a year in advance to secure that date. However, if you get engaged this summer and have always dreamed of a winter wonderland wedding, it could work! With a deep breath and focused work, you can still plan your last minute wedding with ease. Here are some basic tips to get you started.
Tips to Plan Your Last Minute Wedding
Create a Checklist
Pour your heart into this list. Write down the big details and categorize them. When you accomplish something, check it off. This allows you to keep track of every component and get an overall glance at your day. Here's a great example of personalizing your checklist.
Choose a Venue
Where you host your wedding sets the tone for the kind of day you want, but some places book up fast. If a specific location is important to you as a couple, ask about their Friday or Sunday openings. Who doesn't love a wedding and brunch?
Learn more about the benefits of weddings on Sunday.
Tell Your Guests
If you're planning a last minute wedding, you will want to inform your guests sooner rather than later. The more advanced notice they have, the more guests are likely to attend. Include all the details of the day on a postcard with a favorite photo to send out as the invitation.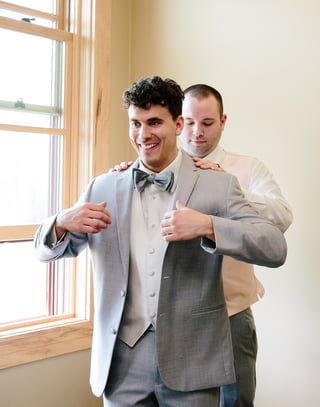 Bridal Attire
Since custom ordered gowns take months to create and deliver, it's best to shop at boutiques where you can buy right off the rack.
Thankfully, tuxes and suits are easy to rent last minute. Going for a more casual look? Throw on a colorful tie, socks and suspenders with his favorite sport coat or button up and he's ready.
Fill Their Plates
Much like venues, catering companies book up in advance. An alternative option is to call your local grocery store for their catering menu. Most stores can prepare food for a large crowd and it can be delivered right to your site.
Music
Instead of paying for a DJ to entertain your crowd, have a friend manage an IPod all night long. An extra benefit is it's actually affordable!
Capture the Day
Relying on family members to take photos of your day is not a good idea. What happens if Uncle Bill misses the first dance because he's chatting with his long lost cousin Sandy? Instead, put out a search for beginner photographers looking to boost their business. Chances are they have just as much talent, but are still trying to get their name out.
Men & Maids' Attire
A trend right now is letting your groomsmen and bridesmaids choose their own style of dress or suit. Give them some basic guidelines of color or cut and let them make their own decision.
Décor – Keep It Simple
An elegant wedding doesn't always equal extravagant. Keep things simple by gathering vases and jars from family and friends and lighting candles all around the room. Fill some of the jars with flowers from a bulk distributor. The lights bouncing off the colored flowers are sure to relay romance.
Relax
Above all else, this is the most important tip on planning a last minute wedding. Sure, the details are tough to work out, but by the end of the day, you'll be married to your best friend and partner for life. If you planned that detail correctly, consider planning your last minute wedding a success.
Hazeltine National Golf Club is a private golf club located in Chaska, Minn., about 30 minutes southwest of downtown Minneapolis. The club opened in 1962 with a mission to build and maintain a golf course suitable for the conduct of national championships. Hazeltine is one of only two courses in the United States to have hosted the U.S. Open, PGA Championship, U.S. Senior Open, U.S. Women's Open, U.S. Amateur, and Ryder Cup. Hazeltine's meeting and event space, golf shop and specified services in the learning center are open to the public. More information about becoming a member at Hazeltine is available at www.hazeltinenational.com.
Topics: Weddings