Mary Flynn adds another title to her name
Mary Flynn has some golf accomplishments that a lot of people would love to have - 5 holes-in-one, a Hazeltine National Golf Club championship...in three different decades, a career low round under 70 (69) and a 74 at Hazeltine. And she's done all that by the age of 56-years young, as she says. Mary started playing golf with her husband when they were in their late 20's.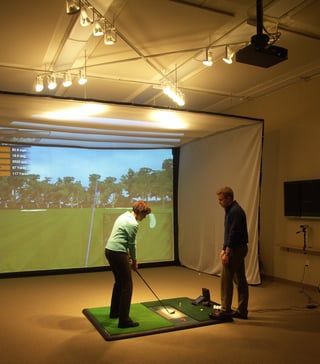 They joined Hazeltine in the fall of 1988 and at the time, Mary's handicap was a modest 36. She remembers choosing Hazeltine because the club was so welcoming to women and progressive "allowing women to play any time, any day."
Last summer Mary won the Women's Club Championship to go with the trophies she won in 1999, 2009, 2010 and 2011. Ask anyone around the club and they know Mary's "got game" and so we caught up with her via email for 5 questions with Womens Club Champion Mary Flynn.
How would you describe golf tournaments at Hazeltine?
There has always been many great golfers at Hazeltine. When the women enter state and city events Hazeltine women usually win in many of the flights. I think the mental game is the toughest part of tournament play. I'm usually spent at the end of each round. You have to keep a good attitude, stay positive,visualize the shot, leave the last hole behind and stay focused on the shot you have right now. Have the drive to succeed. Most of all remember that you are fortunate to be playing a fabulous course with wonderful competitors who are your friends. I always feel blessed that I can walk down a beautiful course following a little white ball whether it is raining, windy or a sky full of warm sunshine.
How does the pressure of of the club championship compare with other events in which you play?
The pressure of winning the club championship compares very closely with other major events that I have played in. I have played in many Minnesota and several USGA Senior Amatuer Championships. I have butterflies in my stomach on the 1st to several holes of each major championship whether it is at Hazeltine ,a state event or at a USGA Senior Amatuer Championship. Towards the end of the round the adrenaline is always freely flowing and again the mental game must be reined in and focus is the key. Just one hole at a time.
What's the most challenging part of playing the club championship?
The most challenging part of playing a 2 day 72-hole match play is stamina both physically and mentally. You have to have a strategy for each hole, be able to take a chance when appropriate but always use good golf course management. You can only be responsible for your own game.
What are your goals in golf?
I have many goals in the game of golf. I continue to try to improve my swing. I really want to become more proficient at compressing the ball and have better distance control throughout my bag. My short game is something I love to practice and want to become more consistent with putting, chips and pitches. I would like to have more scores under 80 at Hazeltine (want to beat that 74 too!). I would like to qualify for more USGA events. Those experiences have been the most impressive tournaments I have ever played in. I would like to mentor beginner golfers that would like some help. I have met so many wonderful people playing golf and I hope to continue to nurture new and old friendships during a game I love to play.
What is the toughest hole to play under pressure at Hazeltine
I think that everyone has a hole that is mentally tough for them. My hole is #6 early in the round. The second shot is tough with the bunker on the right and the water on the left. Or if the pin is back my wood is tough to stop on the green. At the end of the round it would be 18 of course especially in an event with players watching cause by then the adrenaline is coursing through your body. Actually there are no holes where you can slack off at Hazeltine and that is why it has been such a delightfully challenging course all these years.

Hazeltine National Golf Club is a private golf club located in Chaska, Minn., about 30 minutes southwest of downtown Minneapolis. The club opened in 1962 with a mission to build and maintain a golf course suitable for the conduct of national championships. Hazeltine is one of only two courses in the United States to have hosted the U.S. Open, PGA Championship, U.S. Senior Open, U.S. Women's Open, U.S. Amateur, and Ryder Cup. Hazeltine's meeting and event space, golf shop and specified services in the learning center are open to the public. More information about becoming a member at Hazeltine is available at www.hazeltinenational.com.
Topics: Member Stories