It's graduation season and – like it or not – that means party season. Everybody loves a good party, right? That is, unless you're the one having to stress about planning and hosting one. Of course you'll look forward to celebrating your graduate with many friends and family, all while sharing great food, great conversation and maybe an embarrassing story or two.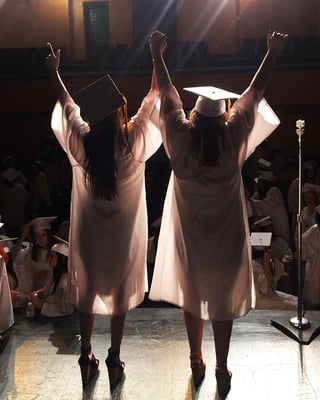 But there's also a lot that's not so great about parties:
Cleaning your house before and after parties
The inordinate amount of time spent planning, shopping, prepping, cooking, serving and cleaning up food
Trimming the guest list due to size constraints
Wondering if you have the best venue on the block
So what if you could have enjoy all the good things about a party, while handing off the details that can get in the way of your fun?
We encourage you to think outside the slow cooker. Because graduation parties are plentiful this time of year, why not be creative? For instance, you could host a plated breakfast or a lunch buffet; a brunch or even a themed lunch. If you do want a more traditional evening celebration, you'll still have options: seated dinners, dinner buffets and even themed dinners.
You'll have time to visit with your guests and mingle among your graduate's friends when you delegate the set-up, prep work, cooking, serving and clean-up.
With parties, the bigger the better, right? Except if you prefer small and intimate. But, if your friends and family list is huge, you may simply need larger space, or space that can flex from small to large quickly and easily.
You can still put your own personal touches on our beautiful venue when you decorate to your tastes. Throw in lush surroundings in a stunning setting and you will have the best party venue on the block!
Hazeltine National Golf Club is a private golf club located in Chaska, Minn., about 30 minutes southwest of downtown Minneapolis. The club opened in 1962 with a mission to build and maintain a golf course suitable for the conduct of national championships. Hazeltine is one of only two courses in the United States to have hosted the U.S. Open, PGA Championship, U.S. Senior Open, U.S. Women's Open, U.S. Amateur, and Ryder Cup. Hazeltine's meeting and event space, golf shop and specified services in the learning center are open to the public. More information about becoming a member at Hazeltine is available at www.hazeltinenational.com.
Topics: Events