Keep Your Next Sports Banquet from Busting Your Budget
The playoffs are over. The uniforms are turned in. The next sports season is fast
approaching or has already begun, but there's still time for the team banquet. Most high school teams look forward to their season-ending banquets. It's a chance for athletes to gather with teammates, family, coaches and friends to celebrate their accomplishments.
Ideas seem endless for sports banquet plans. There's the food, venue, decorations, and themes. There's also the never-ending list of purchases for the big event, or so it seems. Don't worry, we've got you covered. Use these tips to keep your next sports banquet from busting your budget.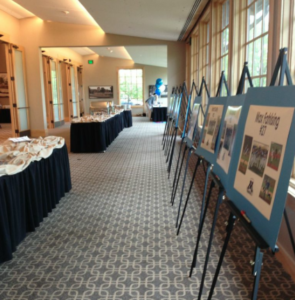 Have Students Create the Highlight Reel
Putting all of those special moments from the season into a highlight collection could be one of the true keepsakes for the team. But getting the finished product doesn't mean you need to spend a dime. Collect game videos from parents, who undoubtedly documented the season with their digital video cameras or smartphones. Then, tech-savvy team members or students could piece together a highlight reel in the school's computer lab.
Creative Coach Gifts
This is another banquet item that's needed but doesn't have to come at a huge cost. A few ideas include players signing an official team photo that can be framed, a few players could prepare a presentation to thank their coach, or maybe it could be a team yearbook with written messages from each player.
Different Ways to Send Invitations
Fancy paper, snail-mail invitations are nice, but there are other ways to spread the word about your banquet in this digital world. You can save paper, time and stamp money by going with online invitations. Creating a Facebook event for things like banquets is a popular way to invite people, or you can use Evite to send out virtual invitation.
Save Money on Printed Materials
While you can always hire a professional printer for your banquet programs, banners or final statistics, printing them yourself can help shave money off the final bill.
DIY Decorations
From centerpieces to tablecloths, banquet decorations can add up. Visit your local dollar store or shop online to help cut costs on materials. Collect some old sports gear that's not being used and then place them around the venue for a simple but creative touch. And check out our blog on DIY centerpieces.
DIY Gifts
Party favors can be another fun takeaway, and it's another chance to get creative. Again, the dollar store will be helpful here. Personalize the gifts with first names or first initials of the players. For instance, you could paint coffee mugs with the school's logo, something to represent the sport, and then the name or initials.
Mock Awards
This is a twist on handing out the standard MVP awards at banquets. Trophies or professional certificates can add up, so that's where mock awards come in. Athletes can have some fun with this, voting on awards like "Most Likely to Eat Pizza Before a Game" or "Best Dressed Athlete Off the Court." With names like that, pictures with captions are more appropriate (and inexpensive) than traditional trophies.
One final tip: be flexible with the date for your event. Flexibility makes it easier to get the venue you want, and some nights may be less expensive than others. Be sure to ask.

Hazeltine National Golf Club is a private golf club located in Chaska, Minn., about 30 minutes southwest of downtown Minneapolis. The club opened in 1962 with a mission to build and maintain a golf course suitable for the conduct of national championships. Hazeltine is one of only two courses in the United States to have hosted the U.S. Open, PGA Championship, U.S. Senior Open, U.S. Women's Open, U.S. Amateur, and Ryder Cup. Hazeltine's meeting and event space, golf shop and specified services in the learning center are open to the public. More information about becoming a member at Hazeltine is available at www.hazeltinenational.com.
Topics: Events