The key to wedding planning is delegating. And the better you delegate, the less you have to worry. Nowhere is that more clear than catering. After all, it's a rare bride who cooks her own wedding meal.
If you're planning a wedding at Hazeltine, we'll handle the catering. But any bride can tap into our experience with these expert tips for perfectly planned wedding catering.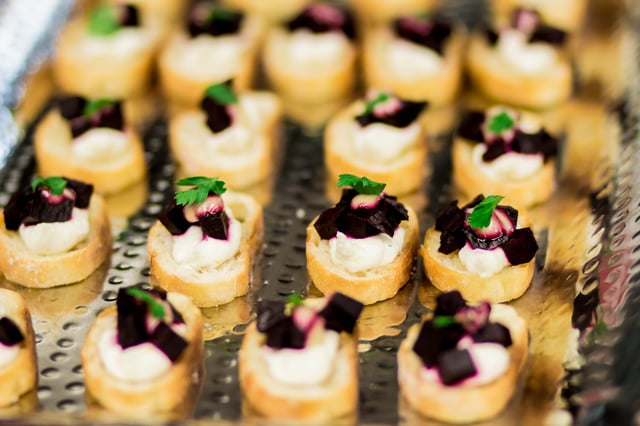 1. Pick a menu you love.

Whether it's a buffet meal, appetizers and cocktails, or a plated sit-down dinner, choose a meal that will be delicious and elegant. Or home-style and yummy. It all depends on your tastes, which includes the kind of food you love, and the style of the wedding and the personalities of the couple.
2. Make time for a tasting before the big day.

If a caterer doesn't offer a tasting, then it might be time to re-think your catering decision. The tasting is a very important part of planning out the menu. It helps to make sure you know what food will be served – by taste, not just the names on the menu and some pretty pictures.
You can determine if you, your partner and guests will be satisfied with the meal options. Taste-test the items you'd like on the menu. If you're having trouble deciding between a couple of things or options, ask the caterer to provide a few similar items to help you choose. Be sure to communicate with your caterer so they know your wishes.
3. Know what you're paying for.
The price per meal isn't always what it seems. Ask about other charges that might be included. Service charges, taxes, sometimes rentals are added to the final bill.
The big thing is to ask questions and have the details ironed out beforehand so there are no surprises.
4. Talk with your caterer so they know what you want.

Caterers aren't mind-readers. Caterers have the delicious food to bring to the table, so to speak, but they should also bring the right food for the wedding. Everyone's tastes are different. Ask your caterer what dishes or meals are big hits at other weddings, or if they have any specialties. Ask their opinion. But remember, you have the final say. If you don't like something or don't want the caterer to provide this or that, let him or her know.
Hazeltine National Golf Club is a private golf club located in Chaska, Minn., about 30 minutes southwest of downtown Minneapolis. The club opened in 1962 with a mission to build and maintain a golf course suitable for the conduct of national championships. Hazeltine is one of only two courses in the United States to have hosted the U.S. Open, PGA Championship, U.S. Senior Open, U.S. Women's Open, U.S. Amateur, and Ryder Cup. Hazeltine's meeting and event space, golf shop and specified services in the learning center are open to the public. More information about becoming a member at Hazeltine is available at www.hazeltinenational.com.
Topics: Weddings