Food is an important part of event planning. Really good food – or really bad food – will have your guests talking. A good meal will add to the success of the event. So how can you make that happen? To help you pick the right event spread, we've got seven questions to ask about catering.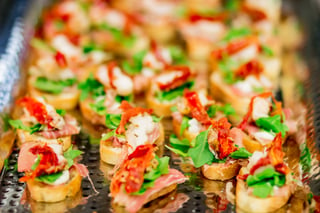 1. What kind of foods are your specialties?
This could be a good question if the event has a particular theme with certain kinds of cuisine in mind. If your caterer has customer favorites or specialties, consider planning your menu around those feature items to ensure you are getting the best of the best.
2. What would you recommend?
If you are hiring a high-quality, experienced caterer, why not ask for their recommendations? They might have some great ideas based on your budget, guest count and event style that you might not think about on your own. For example, the food they'd recommend for a wedding may differ from the food they'd recommend for a golf outing.
3. How do you present the food?
We also eat with our eyes, right? Whether a buffet or plated meal, it might be helpful to see some examples of what this particular vendor has done in the past. Presentation of the meal is a very important factor when it comes to the success of the event.
4. What is the estimated cost?
Staying on track with your budget for the event is always key, so it's important to make sure you know what is included in cost. For catering, it's often a per-guest rate. Simple enough, but go further with this to avoid any unexpected costs down the road. Follow up by asking if things like chef wages, set-up, and take-down, or gratuity are also included in the per-guest rate.
5. How will you handle last-minute or dietary requests?
It is important for you to understand how to handle any situations that may arise when it comes to the catering. Make sure to know the process ahead of time so you'll know what to do if and when the need arises.
6. Do you provide a sampling of the menu?
Getting a chance to sample the menu before your event can really help narrow in a your favorite dishes or the best theme for the food for your event. Ask if your caterer will allow you to sample the food before your big event.
7. Are there any extra charges?
Make sure that you know all the potential add-on costs associated that could arise before your event. Knowing the potential add-on costs will make it easier to react if any last-minute situations should occur.
Hazeltine National Golf Club is a private golf club located in Chaska, Minn., about 30 minutes southwest of downtown Minneapolis. The club opened in 1962 with a mission to build and maintain a golf course suitable for the conduct of national championships. Hazeltine is one of only two courses in the United States to have hosted the U.S. Open, PGA Championship, U.S. Senior Open, U.S. Women's Open, U.S. Amateur, and Ryder Cup. Hazeltine's meeting and event space, golf shop and specified services in the learning center are open to the public. More information about becoming a member at Hazeltine is available at www.hazeltinenational.com.
Topics: Events