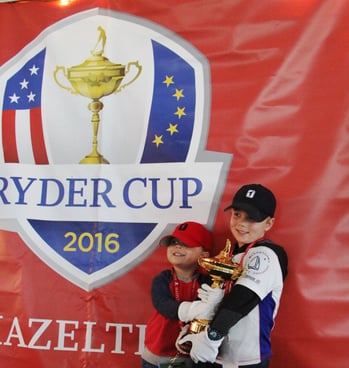 "It's hard to believe it was two years ago," said Hazeltine National member and championship committee chairman Jim Dauwalter about hosting the 2016 Ryder Cup. "In some ways, it seems like yesterday, and in other ways, it seems like a lifetime ago."
To commemorate hosting the 2016 tournament, we held a Ryder Cup viewing party for our club members this past weekend.
When asked about the viewing party, our General Manager Eric Rule said, "You have to do it. It's a good time to look back and think about what everybody did."
The Set-Up
On Saturday and Sunday of the 2018 Ryder Cup, we set up a heated tent near our iconic 16th green replete with leather couches, a bar, and plenty of delicious food (like wood-fired breakfast pizzas, soufflé and fresh fruit!).
We also displayed our Ryder Cup replica trophy (which our friends, Tucker and Roger Pederson, really enjoyed - see picture above) and the KPMG Women's PGA Championship trophy to celebrate next summer's tournament.
Visit our Facebook page for more pictures and information of the day!
Looking Forward to 2028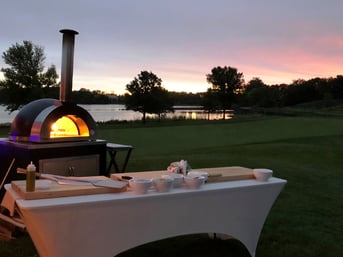 This past weekend's viewing party was even more exciting knowing that the Ryder Cup will be returning to Hazeltine National in 10 short years!
Watching another world-class course host the Ryder Cup has given us some inspiration for when we take on the tournament for a second time in 2028. As we look forward to the future, we will be spending our time not just preparing for the Ryder Cup, but also for the many other tournaments we'll be hosting beforehand, including the 2019 KPMG Women's PGA Championship next summer. And, of course, playing golf!
Topics: Events