It should come as no surprise that improving your short game will lead to lower scores. How you perform with your wedges and putter dictates your score. And that is true at all levels of play. So, to say you must practice your short game twice as much as your long game should also come as no surprise.
In this article, we take a look at how to maximize your short game performance in 3 steps.
Step 1: Pick The Type of Shot
There's not enough daylight to practice every shot you need around the green... But as a general rule, you need 2 basic shots:
High shot with minimum role or pitch
Low, running shot (called a "chip")
Occasionally, you might have a shot with equal air and ground time. Call that what you want, but typically it's used when you're not very close to the green.
Step 2: Understand Your Lie
Once you have determined what shot you need to play, the next factor is assessing how the ball is sitting.
Don't overlook this step! It can determine the kind of shot you must play. Here are some questions you should ask yourself:
Is it sitting up in the grass or down? (Meaning, is it propped up on top of the grass blades, or is it deep into the grass?)
Is the grass growing towards the target or against you?
Are you in deep grass or bare grass?
The best way to know what to do with these types of lies is by recreating them in practice. But overall, if your ball is sitting down in the grass, if the grass is growing against your target, or if you're in deep grass, you'll want to give the ball a little extra mustard to get it to the target. That said, every shot is different! That's why practice is so important.
Step 3: Practice Your Shot for Solid Contact
Good contact is essential to good golf, and this includes our short shots. When we see bad contact, it's usually because the golfer isn't catching the ball at the bottom of the swing.
Trying to "help" the ball in the air makes the bottom of the swing arc fall behind the ball. When you blade and chunk, this is the case.
Take multiple practice swings to make sure you brush the grass on the target side of the ball. This not only gives you a feel for the length and pace of the swing, but also how the club head interacts with the turf.
Wedges have different degrees of bounce on the bottom of the club to ensure you don't take too much turf. Let your PGA professional help you get the right bounce on your wedges.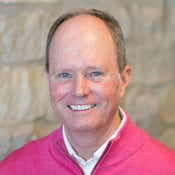 Mike Barge
Director of Instruction
Topics: Golf Tips