Offering the right amount of silent auction items is critical to achieve your fundraising goals. Too many items result in lower bids, low energy, and lack of "bidding wars" that add to the excitement of the event, as well as to the bottom line. Too few items and you may not achieve your target revenue, guests will be disappointed, and you could be leaving bidding dollars on the table.
Fortunately, there are proven formulas to help determine how much to include in your auction.
Once you know how much to include, it's time to figure out what to include. See 65 Best Silent Auction Items and 23 Awesome Silent Auction Baskets for ideas on what to include in your silent auction.
How much do you want to raise?
The first step in a silent auction is to determine your fundraising goal. Is the silent auction the only way you'll be raising funds, or will you have a live auction as well? If you're having both, the live auction typically generates roughly two-thirds or 67% of your fundraising revenue, while the silent auction produces one-third or 33% of the funds raised.
A rule of thumb is that live auction items will produce 65-75% of their retail or fair market value, while silent auctions will result in 50-65% of their fair market value.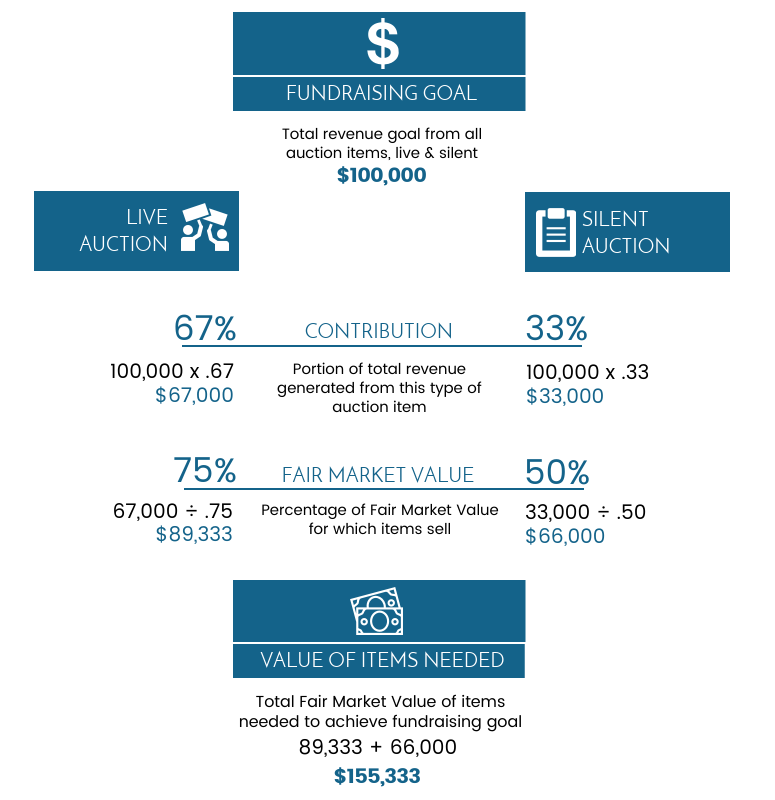 Who's bidding?
A rule of thumb is to offer 1 to 1.5 items per bidder. This is the amount of product that provides enough scarcity to drive up bidding.
To determine how many bidders to expect, analyze your audience. Do couples make up the majority of your guests? Do singles? Is it a mixture?
If the audience is made up of couples, divide your guest count by 2. Couples aren't typically bidding against each other for items, but rather function as a single bidding unit. If the audience is made up of singles, count each as a bidder.

What do bidders want?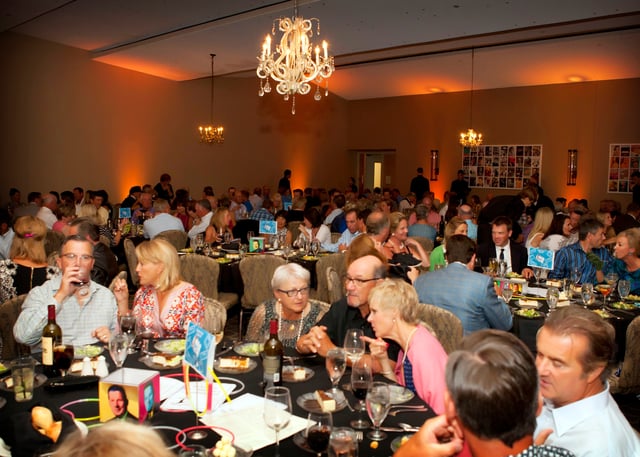 Understanding your target donors–those attending the event–is the final component in determining how many items to include in your auction. What's the profile of your bidder? Are they willing to splurge on larger ticket items, or is the crowd more practical and value-based in the bidding?
A good sense of the guest demographic should guide your procurement efforts. Is this a crowd that likes to travel? Do they have an affinity for a particular hobby or dining experience? Get the items your donor want.
Need ideas for procuring auction items? See 65 Best Silent Auction Items and 23 Awesome Silent Auction Baskets.
Hazeltine National Golf Club is a private golf club located in Chaska, Minn., about 30 minutes southwest of downtown Minneapolis. The club opened in 1962 with a mission to build and maintain a golf course suitable for the conduct of national championships. Hazeltine is one of only two courses in the United States to have hosted the U.S. Open, PGA Championship, U.S. Senior Open, U.S. Women's Open, U.S. Amateur, and Ryder Cup. Hazeltine's meeting and event space, golf shop and specified services in the learning center are open to the public. More information about becoming a member at Hazeltine is available at www.hazeltinenational.com.
Topics: Galas