Alternate Routes to Access Hazeltine
Beginning June 11 through the end of the summer, the section of Route 41/Chestnut Street shaded in the red on the map will be closed. We are suggesting the below alternate routes shown in yellow.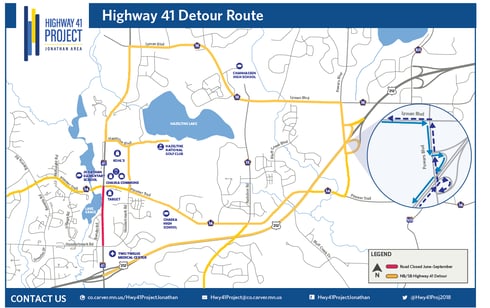 From the east: use the Powers Road exit off Route 212, turn right on Pioneer Trail

From the west: take Engler Blvd., turn left on Victoria Drive, turn right on Pioneer Trail

From the north: road closure should not affect travel

From the south: take Audubon Road, turn left on Pioneer Trail
While Hundertmark will be open from route 41 to the Club, it is anticipated to be very busy. It is suggested to avoid the intersection of route 41 and Pioneer Trail. We suggest using the routes indicated.