In the fundraising world, summer means it's charity golf event time! According to Greater Giving there are over 1 million golf outings and tournaments in the U.S. every year. Many non-profits host golf outings as a vehicle to raise money, yet not all of them are a success, financially. In fact, the average event has 80 players and raises just $5,000, yet some bring in more than $300,000. So, how do you get the most out of your charity golf event?
Things to consider when choosing your golf event venue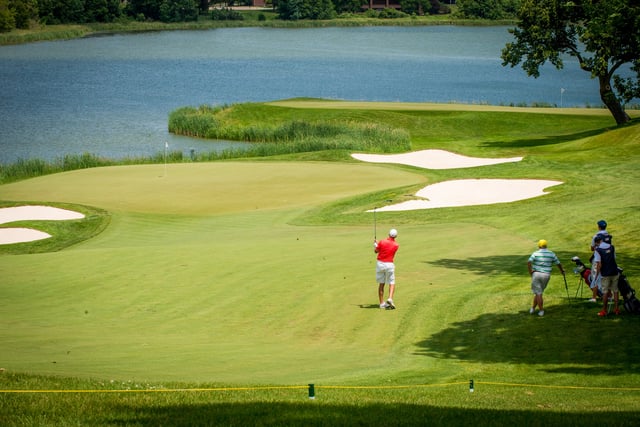 It begins with making your event memorable and leaving your attendees wanting to come back next year. The golf facility plays a part in this and even more so, the golf staff has a hand in making your guests feel valued and important. Here are a few things to consider when choosing your golf event venue:
Great service from the golf staff
When you're searching for the right course, pay attention to not just the facility, but the staff as well. Are they polite? Do they greet you warmly and make you feel welcomed? If they don't do that when you meet with them, you have to wonder what it will be like for your guests on the day of the event. The golf staff can have a direct impact on whether people choose to play in your event next year. A wonderful golf experience begins with the staff that greets your golfers at the bag drop and then ushers them to the appropriate location for check-in.
The timing of your golf event
This is a biggie because if your event goes too long, people may get bored, frustrated and if golf takes too long, your guests may not be able to stay through an evening presentation if there is one. Weigh the advantages and disadvantages of a morning event and afternoon event. Also, consider the attendees - who they are and what types of commitments they may have. For example, according to Chris Baisch, assistant golf professional at Hazeltine National Golf Club, "we like to have the golfers off the course by 5:00p.m. or 5:30p.m." Baisch says often golfers with families need to leave early to catch kids sports or activities. This way, if you can be mindful of start and finish times you'll help your guests with their other commitments.
Pace of play on the golf course
This goes hand-in-hand with the timing of the event. So often we attend golf events that take six hours to play 18-holes. First, this is a long time to spend on the golf course and secondly, golfers often get frustrated with slow play. So, within the context of the comments of Chris Baisch, if an event starts at 1:0op.m. and the round lasts six hours, golfers are coming off the course at 7:00p.m., enjoying cocktails, dinner, awards and remarks and it might be 9:00p.m. before the event is over. Be sure the target time of play is clearly explained to the attendees and then rely on the golf staff, if possible, to encourage a consistent pace of play. An experienced golf staff understands how to move golfers along without offending them.
Golf event format
In most cases, charity golf events use a Scramble format. In a Scramble, all four golfers play from the same location, using what is the preferred shot of the four that are in play. Some events also use a Shamble, which is a variation of the Scramble, but can take longer if the golfers are not as skilled. Typically, a Scramble provides the best opportunity for golfers of all levels to enjoy the day and still get around the course in under five hours. Be careful when hosting events in which each golfer plays their own golf ball. Depending on the skill level of the golfers, this format can bring the pace of play to a crawl.
Efficient and professional golf event staff
You expect the golf staff at the venue to be professional and courteous. Ensure that they are also efficient. An experienced golf staff will make sure they have all of the various side competitions (ie. closest to the pin, longest drive, longest putt) collected and organized so the awards portion of your event runs quickly and smoothly. This is not an opportunity for the golf staff to become a host for Comedy Central, their job is to be organized, efficient and professional so YOU can be the star of the show! Make sure both the venue and the person assigned to handle your day are experienced with charity golf events. They can have a big impact on the events of the day.
Hazeltine National Golf Club is a private golf club located in Chaska, Minn., about 30 minutes southwest of downtown Minneapolis. The club opened in 1962 with a mission to build and maintain a golf course suitable for the conduct of national championships. Hazeltine is one of only two courses in the United States to have hosted the U.S. Open, PGA Championship, U.S. Senior Open, U.S. Women's Open, U.S. Amateur, and Ryder Cup. Hazeltine's meeting and event space, golf shop and specified services in the learning center are open to the public. More information about becoming a member at Hazeltine is available at www.hazeltinenational.com.