Three months of golf lessons
At the end of last year, Hazeltine National Golf Club Golf Instructor, Chris Baisch and I embarked on golf lessons together. The goal has been to get my game to a point where I can go out on the golf course and enjoy the game, rather than feel embarrassed, inadequate and frustrated. We've worked together consistently over the last three months and now I'm measuring the success of golf lessons. Of course, success looks a little different for each golfer, yet here are a few things I've learned in 12-weeks of lessons:
Warming up with different clubs/different shots is essential.
Hitting a good shot, badly, can still keep you out of the weeds. If the mechanics are good, but it doesn't go as far as I want, it still keeps me in play.
A driving range is one thing, the simulator is entirely different, and outdoors will be yet another matter.
Progress
Today I played the golf simulator for the second time. This time, I took a lot more time to warm up. I hit my 7-iron, my hybrid and practiced pitching before stepping into the simulator. This made a world of difference compared to last week. Just reminding my body what each shot felt like before trying to execute it was helpful.
One of my goals when I started taking lessons was to be able to drive 200 yards. Today I hit a tee shot 182-yards, so I'm getting close. And unlike last week, I took no mulligans (which makes up for the 18 or so taken last week) The simulator was set for 12-foot gimmes, and this was my score: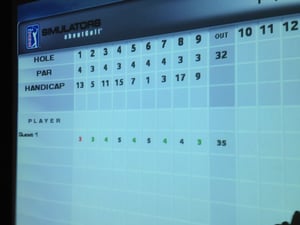 Next time we'll set the gimme for 9-feet and see what impact that has. While a simulator is different than a real course, this is by far the best I've ever played. Today was fun, a confidence builder, and a great learning opportunity about many things not strictly swing related: warming up, not letting a "missed" shot ruin a hole, starting to get a feel for adjusting shots for different distances. While I still rely heavily on my trusted instructor, I'm very eager to get outside and put my new skills to work.
Hazeltine National Golf Club is a private golf club located in Chaska, Minn., about 30 minutes southwest of downtown Minneapolis. The club opened in 1962 with a mission to build and maintain a golf course suitable for the conduct of national championships. Hazeltine is one of only two courses in the United States to have hosted the U.S. Open, PGA Championship, U.S. Senior Open, U.S. Women's Open, U.S. Amateur, and Ryder Cup. Hazeltine's meeting and event space, golf shop and specified services in the learning center are open to the public. More information about becoming a member at Hazeltine is available at www.hazeltinenational.com.
Topics: Golf Tips