If you're going to call anybody "Mr. and Mrs. Hazeltine," Andy Anderson and Mary Flynn certainly have the trophies to prove it. They won Hazeltine's Mr. and Mrs. Championship in 2014, and have now won the title 13 times. Impressive results for a couple who didn't envision any trophies when they joined the club 27 years ago.
Couple Went From Casual Golfers to Club Champs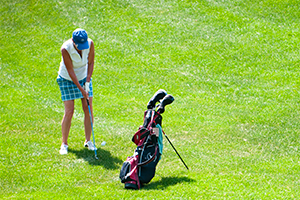 Mary and Andy met in dental school, and have practiced dentistry for more than 30 years –
the last ten in the same office. They joined Hazeltine in 1988, and credit the club as the catalyst for their growth as golfers. After joining, Andy worked down to a scratch handicap and Mary took her game from a 36-handicap to a low of 4.
"Hazeltine is a golfer's golf club" says Flynn, who has also won five Women's Club Championships. Anderson has three aces to his credit, plus a double-eagle on Hazeltine's great par 5, No. 7. "It's a place where golf's traditions are celebrated," says Anderson, who has three aces, plus a double-eagle on Hazeltine's great par 5, No. 7.
They spoke recently about winning tournaments as husband and wife, the club that makes it happen and how much they enjoy their membership at Hazeltine National Golf Club.
How did you get into playing golf?
Andy: "I grew up playing tennis in high school and college. The handicap system in golf is ideal. Everybody can play with everybody, no matter what the skill level is, and tennis is not like that. So I sort of morphed into playing golf for that reason. And you could actually learn how to play the game with each other without me hitting overhead smashes into my wife."
You played some public courses before you joined Hazeltine—why the switch?
Mary: "Part of it also was because we were also working, and Hazeltine was great at accepting women. It was basically one of the only courses around that I could pretty much play whenever I wanted to. That was huge for me, because with both of us working I needed the flexibility to play when I wanted--not just on Saturday afternoon starting at 3 o'clock."
What do you feel are the benefits of membership at Hazeltine?
Andy: "Part of the benefit of Hazeltine is the great practice facilities—it's probably the best in the state. So, whether I have 30 minutes or an hour-and-a-half, I squeeze in whatever fits into my schedule. We try to practice pretty hard for three or four months in Minnesota—but it's a labor of love."
Mary: "Hazeltine truly is a golfer's golf course. We have nice, wonderful members but most of the members are there to play golf. The social atmosphere is wonderful, too. There are a lot of people that do like to practice. You'll be out on the driving range and a lot of people will be talking back and forth, helping each other out. And we've always had wonderful teaching pros at Hazeltine. They are interested in what you're doing and they are there to help."
What do you like about the club?
Andy: "You have access to players who really appreciate the traditions of golf, but there are players with a variety of skill levels. Hazeltine is not only for the better player, it's also for a lot of high handicappers. We all enjoy playing with each other and we all enjoy encouraging each other and enjoy the competition.
"Everybody plays golf for different reasons and you can find all those at Hazeltine. If you're into a sport for competition, we have that; if you are playing golf because of a social aspect, we have that; if you are playing it just for the camaraderie, we have that. We can be all inclusive even though each person might have a different focus."
Mary: "A couple years ago, Hazeltine opened up an indoor practice area down in the lower level of the clubhouse where they have a putting green that is really top-notch. They've got simulators, which are fun and the guys come in and knock around and play different courses. We also have a club-fitting center that has a really good set-up, so you can determine your loft and lie and see what your ball flight is. We have the ability to use it in the winter if we want to. You have an area where you can swing and move around a little bit."
You talked about Hazeltine being welcoming to women—can you expand on that?
Andy: "For a woman who may have not had so much of a sports background, there is an after-hours league for those just getting into golf. There are other like-minded women who maybe want to pick it up and want to learn the game a little bit and they're not sure how to go about it. They have a great time and they play nine holes and it's not too stressful. That is a fantastic way for entry-level women getting exposed to other people who are just like them."
Mary: "I play in the After Hours League, in addition to the 18 Hole League, also. We have all the different levels and we intermix and we show them that we don't care how many swings it might take them. And they can beat us because we do net events. I've had women come up to me and hug me and say 'I beat you,' and they're so excited that they're playing at or above their handicap. Then we all stay and have dinner or drinks together, so you get to know these people on a personal level and hear about their kids, family, jobs or what's going on in their life."
You have 13 Mr. and Mrs. Championships—it must be old hat by this time?
Mary: "This past win was good because there was a younger couple, very good golfers, who won it last year. The fact that the "older couple" could come back and win again this year was fun."
Andy: "It never gets old."
Hazeltine National Golf Club is a private golf club located in Chaska, Minn., about 30 minutes southwest of downtown Minneapolis. The club opened in 1962 with a mission to build and maintain a golf course suitable for the conduct of national championships. Hazeltine is one of only two courses in the United States to have hosted the U.S. Open, PGA Championship, U.S. Senior Open, U.S. Women's Open, U.S. Amateur, and Ryder Cup. Hazeltine's meeting and event space, golf shop and specified services in the learning center are open to the public. More information about becoming a member at Hazeltine is available at www.hazeltinenational.com.
Topics: Member Stories