There are many great reasons to join a golf club, but meeting people with common interests is one of the most popular. Just ask Jane and Reed Mackenzie, longtime Hazeltine members who literally met each other on the course, and have been involved in the club and the game ever since.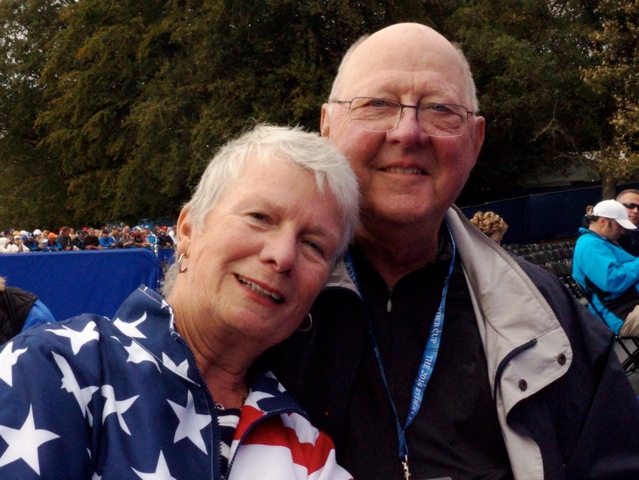 Reed joined Hazeltine in 1966 and Jane in 1971, and Jane tells the story of how the pair, now married for 38 years, crossed paths—or fairways, as it were.
A "Lucky" Shot
"I was playing down the 10th fairway and Reed was coming up the 18th, and he hit his ball, I am sure on purpose, into my fairway," Jane says. "Then he came over to say hi. I hadn't really met him. I had only heard about him, and what I heard about him I wasn't sure I wanted to meet him."
Reed asked Jane to dinner, and 38 years later they have three children and seven grandchildren that they spend a lot of time with. Asked if she truly believes Reed's shot into her fairway was intentional, Jane replied:
"That's my story. He was a pretty good golfer back then. How do you hit a shot so far offline unless you are intentionally trying to do so?"
Equal Opportunity
Jane says that meeting people and getting involved in golf at Hazeltine is what she enjoys most about being a member. She joined the club back in the day when equal access to golf for women wasn't very equal. By the late 1980s, Reed was president of the Minnesota Golf Association and Jane was president of the Minnesota Women's Golf Association, and the pair was in prime position to do something about it.
"[Our being in those roles] was helpful because we were on the same page about it," Jane continued. "There were many women in the MWGA who did not want to rock the boat. So had there been leadership in place that felt that way, it might have taken a little different turn. And as it turned out, I think it has been good for everyone."
Official Business
Serving as golf association presidents was just one aspect of the game that the Mackenzie's were involved with throughout their careers. Reed, a longtime golf rules official, became the president of the USGA in 2002, and he was instrumental in bringing the U.S. Open to Hazeltine in 1991. Jane, who also helped the club put on that tournament, recalls how different the efforts were just over a couple decades ago.
"When we had the Open, I was in charge of all the volunteers, but things have changed so much on that," she says. "That was when databases were just starting to become important, and we thought we were so smart because we had a database that would capture all the addresses and phone numbers of all the volunteers. It was the most basic database then, but that was a huge deal. We had 5,000 names on it, but now that's nothing."
Jane started working on golf championships in marketing and PR for the first eight 3M Championships (originally the Burnett Senior Golf Classic). She is a committee member for the upcoming Ryder Cup Matches at Hazeltine, heading up a commemorative book project for all the members and volunteers at the event, while Reed is on an advisory committee for the event.
Lasting Relationships
Jane is also involved with the Learning Links junior golf course project, intended to provide even more access to young people interested in golf. Jane says these types of volunteering opportunities really make being a member of the club rewarding. Whether it is the junior program, volunteering or even housing players when they come to town for big events, Hazeltine members have always been eager to give back to the game.
"Our junior program has been significant as far as getting people involved," Jane says. "Just like housing for the U.S. Amateur [in 2006]. People have maintained relationships with those people who come and play in these championships. So it's that kind of involvement that isn't just like 'okay I'm going to give money to this.' It's participating in it at different levels, just getting involved in what goes on around some of these tournaments. Those are so fun for people who do get involved. I think that is one way to give back."
Jane says she appreciates the resulting relationships that are built from the events. She points out that U.S. Amateur champion Richie Ramsay from Aberdeen, Scotland, stayed with the Buller family in 2006. One of the family members became his caddie for the tournament, and the Bullers maintained a relationship long afterward, even attending his wedding (he married a Hazeltine employee he met during the tournament).
"The main thing is the people that you meet because you are involved in a good sport, a fun sport," says Jane. "[Reed and I have] gone all over the world because of golf. We've met people from everywhere because of golf. I think it's the people and enjoying the time you get to spend with them."
Hazeltine National Golf Club is a private golf club located in Chaska, Minn., about 30 minutes southwest of downtown Minneapolis. The club opened in 1962 with a mission to build and maintain a golf course suitable for the conduct of national championships. Hazeltine is one of only two courses in the United States to have hosted the U.S. Open, PGA Championship, U.S. Senior Open, U.S. Women's Open, U.S. Amateur, and Ryder Cup. Hazeltine's meeting and event space, golf shop and specified services in the learning center are open to the public. More information about becoming a member at Hazeltine is available at www.hazeltinenational.com.
Topics: Member Stories