A lot goes into planning a wedding, and much of it starts by choosing the venue. So, how do you know you've picked the right place? There are many factors to consider for any wedding venue, but here's what to look for at golf course wedding venues.
The One and Only
At large banquet halls or event centers, there may be multiple spaces and ballrooms holding various events at the same time. So that means a good chance your wedding won't be the only one going on. Maybe that's not a big deal, but it's usually an advantage of a golf course weddings. Often, clubhouses will have just one large and elegant ballroom, making sure there is only one big day going on at once.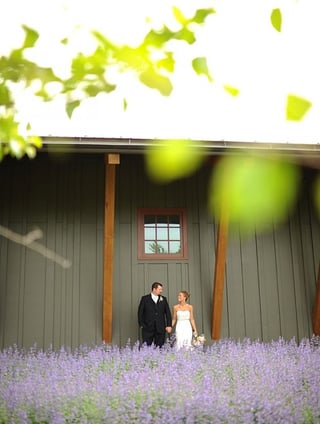 What Services Do They Offer?
Venues, especially golf courses, will usually offer additional services to help make the wedding day go smoothly. This can mean everything from catering and cleanup to a wedding planner. Take a look at what the golf courses offers for weddings, besides providing a beautiful setting and an elegant venue. Some have special packages to help with cost and planning. The more services that can be coordinated through the golf course, the fewer extra decisions you'll have to make.
The Golf Course Grounds
Take in the overall scenery and landscape of the golf course. Most courses, especially private ones, are very well maintained and are therefore very appealing to the eye. The grounds offer an instant photography backdrop for the big day, so think about taking advantage of that as well. Take a look around and see what might make a good photo spot. When you think about photos, it's just as important to be happy with the overall view and look of the golf course as it is the facilities inside.
Flexibility
With some venues, weddings will either take place indoors or outdoors. There isn't an option for both, or one or the other. Golf courses can usually offer some flexibility with this. Perhaps an outdoor ceremony on a deck overlooking the course, a cocktail hour outside, then into the ballroom for dinner and dancing. Or maybe you prefer everything inside. Check with the golf course to see what they offer in terms of availability and flexibility, including backup scenarios in case of bad weather.
Hazeltine National Golf Club is a private golf club located in Chaska, Minn., about 30 minutes southwest of downtown Minneapolis. The club opened in 1962 with a mission to build and maintain a golf course suitable for the conduct of national championships. Hazeltine is one of only two courses in the United States to have hosted the U.S. Open, PGA Championship, U.S. Senior Open, U.S. Women's Open, U.S. Amateur, and Ryder Cup. Hazeltine's meeting and event space, golf shop and specified services in the learning center are open to the public. More information about becoming a member at Hazeltine is available at www.hazeltinenational.com.
Topics: Weddings