This blog has been updated as of January 2023.
Fridays and Saturdays are the best days for a wedding, right? Actually, there might be another option: Sunday. If you are interested in something different (and likely a better value), here are 10 undeniable benefits of a Sunday wedding:
1. Sundays can be as informal or formal as you would like. If you aren't big on the black tie affair, a Sunday afternoon wedding might be a great option. This works perfectly if the bride and groom have a more casual style, and the whole tone of the wedding ceremony and reception is informal as well. On the other hand, if you are going for a more refined, early morning ceremony then a Sunday is a great option! Have people dress in their "Sunday Best" and enjoy the special occasion.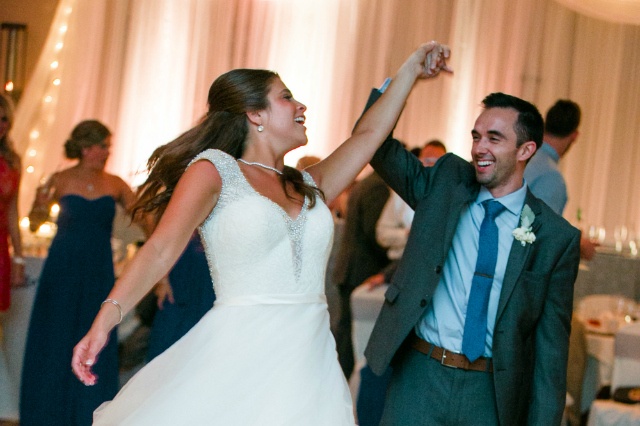 2. More availability. Since most weddings are on Fridays and Saturdays, those are the dates that book up the fastest. If you have your heart set on one special venue for the big day, a Sunday wedding leaves the door open for flexibility on the date and venue.
3. Tie the knot faster. Due to availability, choosing a Saturday wedding with a specific venue or vendors can push the wedding date out further and further. Getting married on Sunday could mean saying "I do" sooner.
4. More affordable venues. Many venues and vendors offer better pricing for Sunday weddings since that day is less popular and usually available. Add up the savings from a number of vendors, and there's an opportunity to save thousands of dollars on the overall wedding budget simply by choosing a Sunday wedding date.
5. Get creative with meals. Serving brunch might be a fun option that you don't see at other weddings. A hearty brunch is often less costly than dinner.
6. Save on alcohol. Having your wedding on a Friday or Saturday can encourage higher levels of alcohol consumption. Being that most people will be returning to work the day after your wedding, they may be more inclined to keep the bubbly to a minimum.
7. Great photo options. A Sunday afternoon wedding offers the chance to be more relaxed with photos. On busy days, such as Fridays or Saturdays, photographers can be double booked and rush from your event to get to the next wedding. Another bonus to a Sunday morning or afternoon is being able to take photos earlier and not have to worry about running out of daylight. No need to add extra stress to your special day!
8. Sunday weddings could boost the guest list. During the peak of wedding season, sometimes people are invited to multiple weddings, some on the same day. The odds are much more favorable that there would not be a conflict with a Sunday wedding.
9. It's helpful for out-of-town guests. For those that will need to travel, that usually involves taking some time off work. With a Sunday wedding, they might not have to. Guests can travel on Saturday (or Friday evening), and head back home on Sunday night, without missing any work.
10. More time to mingle with guests, before and after. A Sunday wedding gives you a chance to spend more time with your close family and friends (usually out-of-town guests) throughout the days leading up to the wedding.
Benefits or not, if you want to have your wedding on a Sunday, there should be nothing holding you back. This event is all about you and your loved one, and people will come to celebrate you no matter the day. However, it is hard to ignore the many benefits a Sunday wedding offers. From the opportunity to get the venue you want, with a style that fits your personality and a price that fits your budget, a Sunday afternoon wedding is a fabulous option to consider.
Hazeltine National Golf Club is a private golf club located in Chaska, Minn., about 30 minutes southwest of downtown Minneapolis. The club opened in 1962 with a mission to build and maintain a golf course suitable for the conduct of national championships. Hazeltine is one of only two courses in the United States to have hosted the U.S. Open, PGA Championship, U.S. Senior Open, U.S. Women's Open, U.S. Amateur, and Ryder Cup. Hazeltine's meeting and event space, golf shop and specified services in the learning center are open to the public. More information about becoming a member at Hazeltine is available at www.hazeltinenational.com.
Topics: Weddings