Defending 2017 Mr. & Mrs. Club Champions, Kyle and Melissa Molin, have won this Hazeltine event four times! Kyle reveals some insights they've learned over the years that help them to have fun while competing.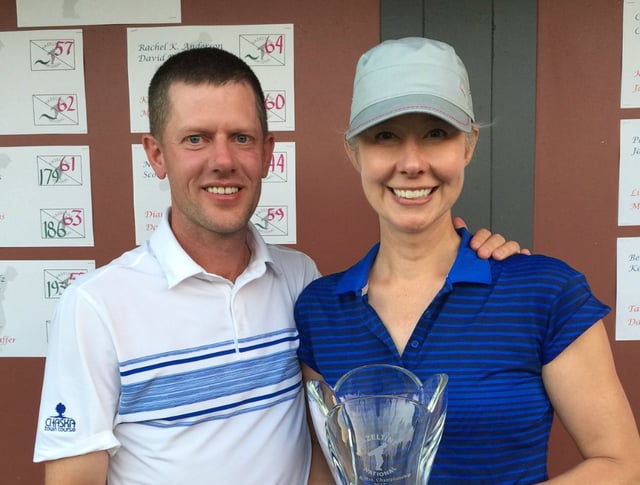 2017 Mr. & Mrs. Club Champions, Kyle & Melissa Molin
As defending Champions, did you approach this year's event any differently than prior years?
We didn't really change up our approach from other years. We know that if we both play well, there's a good chance we'll be in contention. This year we played in the MGA State Mixed Amateur for the first time in about 10 years. We played very well in that tournament, which was about two weeks before the Hazeltine Mr. & Mrs. We were focused on keeping that good play rolling.
This year, what was the toughest part of the Mr. & Mrs. event?
We were paired with our friends Eric and Krista Bull, who are always great to play with. They made it easy to relax and have a fun round of golf. Because we were really enjoying the round, nothing stands out as being particularly tough.
What is single most important part of your game to practice?
For me, it is full swing. If I am in a good rhythm with that, everything else usually falls into place. Melissa tells me she knows she should practice her wedges and short game more.
How is the pressure of playing in the Club Championship and/or with your spouse different than other tournaments?
After 20+ years of golfing together, we have this worked out pretty well. I don't say anything golf-related, and we get along just fine! I'm definitely more competitive than she is. This used to be a big problem, but is much less so after a couple decades.
After winning this event 4 times, do you have more golf goals?
I might like to win some golf tournament other than the Mr. & Mrs.! But it would be fun to win a 5th title in 2018.
Hazeltine National Golf Club is a private golf club located in Chaska, Minn., about 30 minutes southwest of downtown Minneapolis. The club opened in 1962 with a mission to build and maintain a golf course suitable for the conduct of national championships. Hazeltine is one of only two courses in the United States to have hosted the U.S. Open, PGA Championship, U.S. Senior Open, U.S. Women's Open, U.S. Amateur, and Ryder Cup. Hazeltine's meeting and event space, golf shop and specified services in the learning center are open to the public. More information about becoming a member at Hazeltine is available at www.hazeltinenational.com.
Topics: Member Stories