Whether you have a gym membership or not, you can still keep your body in shape for the upcoming golf season. Here are three of my favorite types of indoor golf exercises to keep me in shape for golf season.
For Your General Fitness
This year, my wife, two children, and I came up with a family New Year's resolution: situps, pushups, and pullups every day.
We also chose to hold each other accountable for our specific daily goals. For instance, my son is doing 25 sit-ups, 20 pushups, and 5 pull-ups a day. That means he is committed to doing 1,825 pull-ups before the end of the year.
While these aren't golf-specific exercises, they help increase our overall fitness level. By working on biceps, triceps, traps, and core, you'll indirectly be increasing the strength and distance of your golf shots. And, you don't even need a gym membership to do it!
For Your Stamina & Balance
To increase your stamina or balance, you don't need weights or a gym; just a club. Here's how:
I balance on one leg at a time for one minute while holding my golf stance, golf club in hand. If that becomes easy for you, amp it up by working on training your eyes while balancing.
Close your eyes for as long as you can while you balance. Once you've mastered that, train them to work in and out of focus. I start by looking at my right thumb on the club (I'm right-handed, so this is the thumb I see on the club in my stance), for 10 seconds, then I focus my eyes on something in the distance for 10 seconds, then back to my thumbs, and so forth for a minute.
Between your balance reps, add in 3 sets of 20 squats with your arms crossed. By combining squats with the club balance reps, you'll be able to hold your stance just the right way for as long as you need to, which will keep your golf fundamentals in line.
For Your Swing Basics
Lastly, planks. These are arguably the most important. This is where you engage your core, a main component for having a stable golf swing. Here's how I do it:
I start with a full plank for one minute, then I shift to a side-plank on each side of my body for one minute each, and then repeat twice. It ends up being a total of nine minutes for those planks. As you continue this exercise, you should try to increase the amount of time spent on each side.
By working on your balance and your core, you'll be able to hold the perfect golf stroke while maximizing the distance of your drives. You'll be surprised at the results!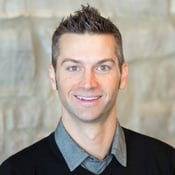 Chris Baisch
Teaching Professional
Topics: Golf Tips