Earlier in this blog series, I blogged about how I identify the speed of the greens before each round. If you missed it: I take the putter head back even with my right toe on each stroke and then measure how far the ball rolled, and use that as my speed gauge for the day. When it comes to chipping the ball from around the green, I do something very similar to control the distance of each shot.
If you ask a player which club they hit 150 yards, you will likely receive a quick answer. But if you ask them which club they use to hit a 24 yard basic chip shot, chances are you will get a confused look. The reality is most players haven't given much thought to club selection when it comes to controlling the distance of their chip or pitch shots, but they really should.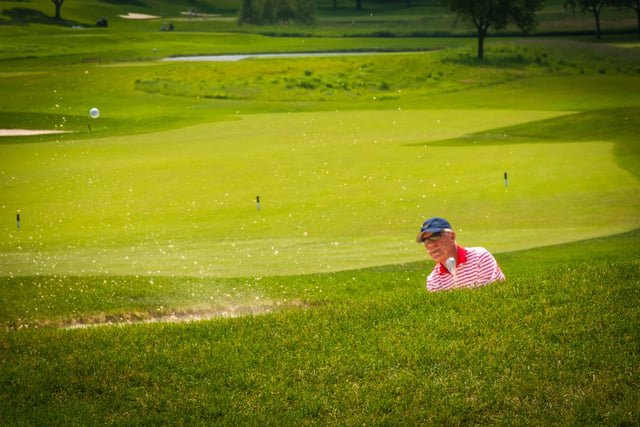 The laws of physics have taught me if I take the club back to the same point in my backswing and swing with the same rhythm, the loft on each different club will make the ball travel different distances. Allow me to share how I calculate this.
Control Short Game Shot Distance
I take some practice balls to the fringe of a practice green and begin hitting chip shots. On my backswing, I feel like my hands go back in line with my right pocket, and the clubhead is parallel to the ground with my right knee. Once I reach that point in my backswing I simply pivot my body back to the target.
Starting with my 60 degree wedge I pay close attention to where the ball is landing on the green. After four to five shots, I place a tee in the ground at the spot where the ball is landing.
I continue to practice with the same club for five to six more shots to confirm where the ball is landing each time. If the length of my backswing and the rhythm of my swing is consistent, my shots should all be stopping within a few feet of each other.
After a dozen shots I will pace off how far the ball traveled in the air, as well as how far the ball rolled on the ground, and the total distance travelled and record the ratio on a notepad.
I repeat this same process with my 56 and 52 degree wedges, PW, 9 and 8 irons.
Sample Short Game Club Results
Here are my chipping ratios and distances. After the club name, the first number is how many yards in the air, the second number is how many yards on the ground, and the third number is the overall distance:
| | | | |
| --- | --- | --- | --- |
| Club | Air: | Ground | Total Distance |
| 60 degree | 6: | 5 | 11 yards |
| 56 degree | 8: | 8 | 16 yards |
| 52 degree | 11: | 10 | 21 yards |
| Pitching Wedge | 11: | 16 | 27 yards |
| 9 Iron | 12: | 21 | 33 yards |
| 8 Iron | 12: | 27 | 39 Yards |
As you can see, I get a nice five to six yard variance between each chip when using the same backswing length and rhythm. Upon assessing each chip shot on the golf course I will sometimes either pace off the distance of the shot, or, if it is longer than 25 yards, use my laser range finder to confirm the yardage. If I need to carry the chip shot over a stretch of rough, I will need to pay attention to selecting a club that will carry that at least that far.
There are other variables such as slope (uphill or downhill) and aim (what direction will the ball roll once it lands) to consider and factor into club selection for each chip shot, but this method has served me well and I hope it will help you too!
Looking for more tips from Chandler? Check out Become a Better Golfer: Avoid Getting Caught Short-sided to fine-tune your approach.
---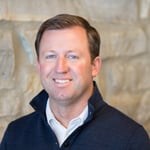 Chandler Withington is Hazeltine's Head Golf Professional. Prior to leading golf operations at Hazeltine, Withington was on the golf staff of Merion, Seminole Golf Club, and other highly regarded clubs. Withington is a historian of the game, and values the life lessons learned on the course.
Hazeltine National Golf Club is a private golf club located in Chaska, Minn., about 30 minutes southwest of downtown Minneapolis. The club opened in 1962 with a mission to build and maintain a golf course suitable for the conduct of national championships. Hazeltine is one of only two courses in the United States to have hosted the U.S. Open, PGA Championship, U.S. Senior Open, U.S. Women's Open, U.S. Amateur, and Ryder Cup. Hazeltine's meeting and event space, golf shop and specified services in the learning center are open to the public. More information about becoming a member at Hazeltine is available at www.hazeltinenational.com.
Topics: Golf Tips