While you don't need a theme for your holiday party, it can help making planning and decision making easier. Holidays provide a great opportunity to get creative...here are a few of our favorite trends this year.
White Christmas
Decor Simple white twinkle lights decorate the space, and be incorporated into centerpieces. Contemporary arrangments incorporate feathers and faux fur.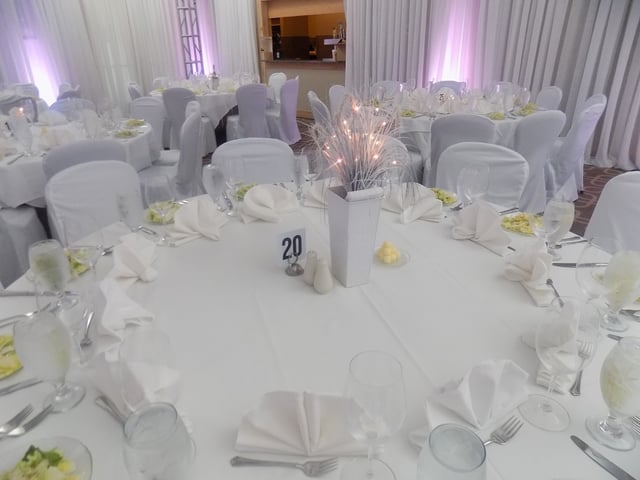 Food Too much white food can be unappealing on the plate, but a touch of white–like white chocolate mousse–can be just enough to pull the theme together without overdoing it.
Drinks White Russians–what else? And eggnog.
Music Traditional Christmas Crooners, like Bing Crosby and Burl Ives, are the perfect accompaniement to this timeless theme.
Vegas, Baby!
Decor Glitz, glam, and over the top. Sequins, colored lights, bright colors. Or gambling themed–decorate with cards, poker chips, dice.
Food High-end cuisine, seafood towers, and molecular gastronomy for the really daring.
Entertainment Few things say Vegas like a magic show. For an interactive element, bring in gaming tables for craps and cards.
Oscar Night
Decor Black and white or movie decor. Add little gold men statues or black movie reels to your tablescape.
Food Classic cuisine adds an old Hollywood feel. Spice up some popcorn for a theme munchie to go with cocktails.
Drinks Old school cocktails like bellinis and martinis rule the night. Champagne, darling, is always perfect Hollywood style.
Entertainment Have some fun with awards of your own; or strike up a band for an evening of dancing.
James Bond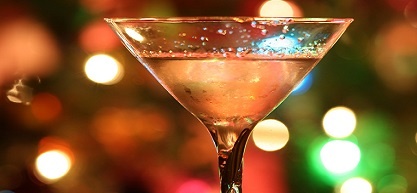 Decor Silouttes and other 007-inspired decor.
Drinks Vesper martinis—shaken, not stirred.
Entertainment Guests complete missions, from having a photo taken with the company president, to learning the elementary school of their officemate.
Activity-o-Rama
This one's all about the entertainment: choose an activity as the basis for your holiday outing, or add an event station to your event. Wreath making, make your own snowglobe or ornament, cookie decorating, or a shortgame clinic in Hazeltine's Learning Center can all provide an energized, interactive atmosphere.
Christmas Carol Karaoke
Decor Vases filled with sheet music are practical centerpieces. Album covers or albums, musical notes and clefs work great on the table or as a backdrop.
Food Bar food rules the night. Meatballs, wings, fried ravioli and other hors d'oeuvres.
Drinks Anything to lubricate those vocal chords, but some craft beers go particularly well with your favorite Christmas tunes.
Entertainment Karaoke (obviously!)
Hazeltine National Golf Club is a private golf club located in Chaska, Minn., about 30 minutes southwest of downtown Minneapolis. The club opened in 1962 with a mission to build and maintain a golf course suitable for the conduct of national championships. Hazeltine is one of only two courses in the United States to have hosted the U.S. Open, PGA Championship, U.S. Senior Open, U.S. Women's Open, U.S. Amateur, and Ryder Cup. Hazeltine's meeting and event space, golf shop and specified services in the learning center are open to the public. More information about becoming a member at Hazeltine is available at www.hazeltinenational.com.
Topics: Events