When looking for areas of my golf game to improve upon, all I have to do is look at the numbers. Golf is a game of math after all, the person with the lowest score wins. After competing in the State Open last week I spent some time reviewing data from the two rounds. While some of these numbers are alarming, they gave me a sense of purpose and direction as I prepare to play in the Section Championship at the end of August.
My Stats
Over the two rounds at the State Open, these were my results:
Hit 21/28 fairways
Hit 24/36 greens
Went 0 for 12 on up and downs
Missed 4 putts inside of 5 feet during the 1st round
Had 69 total putts
Missed the green 3 times with pitching wedge or lower club
Was +6 on the Par 5's
Numbers Tell a Story
I posted rounds of 79 and 77 and missed the cut by 8 shots. If I could have played the par 5's at even par and gotten a few up and downs, I could have easily been playing on Sunday. However, I can't expect results from my short game if I haven't put in quality practice time to prepare for a tournament.
Keeping track of statistics not only allows me to identify my weaknesses, but also allows me to track my progress while set goals for improvement. Over the next month I will be focusing on improving my putting and short game from within 100 yards.
A Game Called Drawback
When practicing, I want to not only develop solid habits, but also create some pressure that I will feel in a tournament. One such game I have gone back to is a putting game called "Drawback." Here is how it works:
Choose any putt between 10 and 40 feet and play the putt
If you don't make the putt, you pull the ball 3 feet further away from the hole and play the second putt
The goal is to play 9 straight holes without three putting
If you three putt, you have to start all over
The Drawback game will test your ability to make putts inside of 6 feet, which I need to improve on. You will feel the pressure to make putts on the 7th, 8th and 9th holes, knowing that if you miss you will have to start over. I played this game during my practice yesterday and it took me 30 minutes to play 9 holes without a three putt. My goal is to complete this game in 15 minutes or less, which would indicate I am improving at putts from within 6 feet.
Your Challenge
What areas of your game are holding you back from scoring better? Are you willing to take 15 minutes after your round to log your statistics into a spreadsheet or any other kind of record keeping method?
I look forward to working on the weak areas of my game and tracking my improvement over the next month. I hope that through tracking statistics you can identify those problem areas and make some progress as well!
---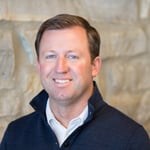 Chandler Withington is Hazeltine's Head Golf Professional. Prior to leading golf operations at Hazeltine, Withington was on the golf staff of Merion, Seminole Golf Club, and other highly regarded clubs. Withington is a historian of the game, and values the life lessons learned on the course.
Topics: Golf Tips