This past weekend high winds greeted players who took to the course on Sunday. I had a number of players come up to me with a shocked look on their face telling me how tough the conditions were. I have no doubt it was difficult, but wind is constantly a factor here at Hazeltine, so let's look at four ways to improve your golf game by preparing for these windy days.
Control Trajectory
Between 2004 and 2005, I spent two winters at Seminole Golf Club in Juno Beach, Florida, where the wind is constantly an issue. When I arrived there, I had absolutely no clue how to play in it. I would hit each shot high up into the wind where it would get blown off course. The head professional at Seminole, Bob Ford, showed me some tricks for controlling the trajectory of my shot, which I am happy to pass along to you.
I learned I needed to keep the trajectory of my shots lower to play better in windy conditions. The less time that each shot spends in the air, the less time the wind has time to affect it. I found I could control the height of each shot by controlling how high my hands finished after each swing. For a higher trajectory, I would allow my hands to finish over my shoulders. To keep the shot lower, I would abbreviate my finish with my hands finishing around waist or chest height. The result was a lower flighted shot that was less affected by the wind.
In each practice session and warm up before a round, I will always spend some time controlling the trajectory of my shots as each round will likely call for a variety of them, especially as I get closer to the green. Please watch my video for a better visual of how I do this.
Video: How to Control Trajectory
Play the Roll
When the wind is really blowing, I am always looking to see how soon I can get my ball back on the ground and let it roll toward the target rather than flying the ball all the way to the target. We see players playing this way during each Open Championship, and it's a mindset that we can borrow when the wind starts blowing here in the States. Remember, the ball doesn't have to fly all the way to the target to get close. There is usually an alternative route.
Vary Swing Tempo
When the weather gets cold and rainy, a few other things will change as well. When it's colder you will likely be wearing more layers, which can slow down the speed of your swing. To account for these days, I like to work on varying the tempo of my golf swing. I will practice swinging at 25, 50, 75 and 100 %, so I am able to adjust my rhythm and tempo under varying weather conditions. This also pays off in windy conditions as a slower swing speed will also keep the ball from spinning high into the air, hence the old saying, "swing easy when it's breezy." When playing in the wind, my swing speed is usually somewhere around the 50 – 70% range.
Adjust Your Club
One last thing to keep in mind on these cold and windy days is how far your ball will travel. As the temperatures drop, so will the distance of each shot. Golf balls won't compress in cold weather the way they will when it is warmer, so account for that. For example, if my normal 7 iron carries 165 in 70 – 80 degree temperature, it will only carry 150 in 50 – 55 degree temperatures.
Being able to control the length of my follow through, rolling to the target, adjusting the rhythm of my swing, and adjusting my club selection for the temperature has helped me on these cold and windy days. Give it a try–it can help you become a better golfer, too!
To see more tips from Chandler on how to become a better golfer, start here.
Be sure to subscribe to Chandler's blog to be notified of his next post.
---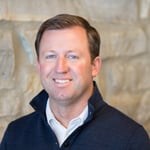 Chandler Withington is Hazeltine's Head Golf Professional. Prior to leading golf operations at Hazeltine, Withington was on the golf staff of Merion, Seminole Golf Club, and other highly regarded clubs. Withington is a historian of the game, and values the life lessons learned on the course.
Hazeltine National Golf Club is a private golf club located in Chaska, MN. The club opened in 1962 with a mission to build and maintain a golf course suitable for the conduct of national championships. Hazeltine is one of only two clubs in the country that has hosted the U.S. Open, PGA Championship, U.S. Senior Open, U.S. Women's Open, U.S. Amateur, and Ryder Cup. Hazeltine's meeting and event space, golf shop, junior golf camps and golf lessons are open to the public.
Topics: Golf Tips