Have any of you ever stood over a shot and had a mind full of doubt, indecision or swing thoughts? I am willing to bet that all of us have and I am certainly no exception. Conversely, how different does it feel when you play a shot full of confidence and free of swing thoughts? As I shared in last week's blog, I am working on improving my level of commitment to each shot. Allow me to share the process I am using to do that.
The trick here is learning how to separate left brain thinking from right brain thinking. Before you think I have entirely lost my mind (both left and right sides), please keep reading as this is an important concept to understand to play great golf!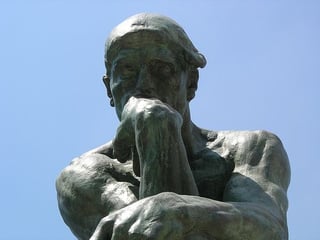 The left side of our brain is our analytical side, which helps us calculate yardages, break on putts, risk versus reward on each shot, wind direction, etc. We use the left brain on each shot that we play, but we need to know how and when to turn it off or it can get in the way.
The right side of the brain is the motor skill side. I like to think of this side as the autopilot side. The right side doesn't like to think at all, it just wants to act. It is the part that drives you home from work without thinking about accelerating the gas or pressing the brake pedal. Athletes who make quick reactions in sports like baseball, hockey or tennis are all using the right side of their brain. A great hockey player isn't thinking about how to skate when he is racing against another player for a puck, they simply are reacting to what is happening.
Free your mind from clutter
Unlike other sports, golf allows you plenty of time to clutter your mind with thought. To combat this, I use a process that has been outlined by the two women behind Vision 54, Lynn Marriott and Pia Nilsson, in which they separate the "think box" from the "play box." Here is an outline of the process:
Information Gathering
I gather all information relevant to the shot. These include, but are not limited to
Yardage to the hole – actual yardage
Carry distance – major obstacles that I need to avoid
Where to miss – where I want my ball to end up that would give me the greatest chance to still make par if I don't hit my intended target
Slope – adding or subtracting distance if the shot plays up or down hill
Wind direction – accommodating for how much wind will affect the shot
Ground effect – what will happen to my ball once it lands
Feel and Visualization
I let the creative side of my left brain take the information I have gathered into account and create a movie of what the shot will look like. I feel the swing as I visualize.
Commitment
Once I have factored all the information and have visualized the shot, I commit to the plan I have made. As this time, I turn OFF the left side of the brain and turn ON the right side of the brain. I am ready to pass from the think box into the play box
Execution
As I walk into the play box I am trusting the right side of my brain to take me into autopilot. I walk into the shot, take aim, and let it go. I literally will say in my mind, "ready, set, go." When the right side of the brain hears an action word such as "go," it knows what to do.
Keeping Track
More than keeping score in these early rounds of golf, I am keeping track of my level of commitment to each shot. Did I make a confident swing, free of doubt and thought, and full of commitment to the plan I had? I would estimate that I am around 60 – 70% successful in my recent rounds and my goal is to get to 95%. While playing with commitment to each shot won't guarantee I will hit every shot the way I had planned, I do know playing shots with interference from the left side of my brain will hurt the chances of me playing to my potential.
Next week I will share more about the right side of the brain and a concept that developed by one of the great teachers in golf, Mike Bender.
For more information on think box versus play box, visit www.vision54.com
---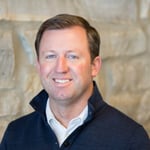 Chandler Withington is Hazeltine's Head Golf Professional. Prior to leading golf operations at Hazeltine, Withington was on the golf staff of Merion, Seminole Golf Club, and other highly regarded clubs. Withington is a historian of the game, and values the life lessons learned on the course.
Hazeltine National Golf Club is a private golf club located in Chaska, MN. The club opened in 1962 with a mission to build and maintain a golf course suitable for the conduct of national championships. Hazeltine has hosted the U.S. Open, PGA Championship, U.S. Senior Open, U.S. Women's Open, U.S. Amateur, and Ryder Cup. Hazeltine's meeting and event space, golf shop and specified services in the learning center are open to the public.