As I prepare to play in the Tapemark Pro-Am this upcoming weekend, I am focused on two things: sticking to my routine and accepting the result of each shot. Tournament golf is not a time to be tinkering with mechanics or searching for swing thoughts. Rather, it is the time to trust your natural ability to play the required shot. Having a consistent routine for each shot allows me to do that.
Over the past two years it has become obvious to me that I haven't been playing golf with any kind of routine. My timing over each shot would vary, as would my thought process. In making my routine a priority this year, I am starting to see my golf become more consistent.

Write Down Your Routines
Earlier this spring I went as far as to write down the details of my full swing, pitching and putting routines. I read and practice these often, as I want my mind to go into autopilot when on the course.
Here is my putting routine in written form:
I visualize the putt and where the ball will enter the hole and commit to the read that I have made.
I walk to the ball, place the head of the putter next to the ball and then look at my target.
While looking at the target I make three practice strokes, feeling the toe of the putter release on each.
I put the head of the putter behind the ball and aim at my target. I keep my grip pressure soft and my shoulders and arms loose as I do this.
I bring my eyes back down the target line to the golf ball.
I set my grip and then feel the putter head go back to start my stroke.
Check Your Consistency
I recently had Andy Smith time me on three different putts to see if my routine was consistent from a timing perspective. I was happy with the result as each routine was timed right around 17.5 seconds. I have someone check me on this on a monthly basis to make sure I am not getting lazy with the routine.
Put Routine into Play
In a tournament, I want to be more focused on the process rather than mechanics or results. Focusing on completing my routines on each shot allows me to repeat a familiar process, especially under pressure.
Do you have a pre-shot routine? Or, do you find yourself trying something different on each shot? If you don't have one, I would encourage you to start giving some thought to what you can repeat on each shot. Start practicing your routine during your practice and take it with you to the golf course. The best way to make your practice count, is to practice the way you would play.
Here is a video of me going through my putting routine.
---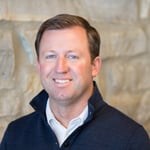 Chandler Withington is Hazeltine's Head Golf Professional. Prior to leading golf operations at Hazeltine, Withington was on the golf staff of Merion, Seminole Golf Club, and other highly regarded clubs. Withington is a historian of the game, and values the life lessons learned on the course.
Hazeltine National Golf Club is a private golf club located in Chaska, MN. The club opened in 1962 with a mission to build and maintain a golf course suitable for the conduct of national championships. Hazeltine is one of only two clubs in the country that has hosted the U.S. Open, PGA Championship, U.S. Senior Open, U.S. Women's Open, U.S. Amateur, and Ryder Cup. Hazeltine's meeting and event space, golf shop, junior golf camps and golf lessons are open to the public.