Manager's Minute
by Eric Rule, General Manager
Lightning Safety
Many of you remember our antiquated lightning warning system. It has been replaced with a new internet-based system that tracks lightning ground strikes as they move toward our area. This system has been installed and is operational. We have added horns that cover all the golf course and clubhouse area. They are hard to miss them when they go off!

Everyone must leave the golf course immediately in the event of the siren going off. Staff and caddies have been told to evacuate the golf course as soon as they sound.

The rule to remember what the sounds mean is:
One Long Blast - Lightning is imminent. Take cover. Remember Long = Lightning
Three Short Blasts - It is safe to resume play. Remember Short = Safe
We understand that everyone has access to his or her phone's weather and radar information. It is the Club's job to protect our members, guests, and staff, so we have invested in the best lightning technology available. We need to trust the systems we have put in place and ask that you wait for the all-clear sign. The Golf Shop cannot make it happen any earlier than the actual program.

As with any system, it is an electro-mechanical device and is subject to failure. We have set the monitoring at 15 miles. While it may seem like the weather is clear at Hazeltine, the fact is lightning can travel quickly and horizontally.

If you cannot get to the clubhouse, an alternative is the Turf Maintenance building near the south end of the course. When it is closed, there are areas offering protection from the rain. As a last resort, you can head to the Bev Hut or the rain shelters. They are grounded and offer some protection, but you are encouraged to make your way back to the clubhouse as these alternatives are small and do not provide a great deal of protection from lightning. The rain shelters are at #2 Green and #7 Tee.

I want to thank everyone for their cooperation. Lightning can be devastating. I once saw lightning splinter a 150-year-old oak tree over an area 100 yards long by 45 yards wide. Of course, the sirens never come at an opportune time. The plan that is in place is to protect everyone.
---
Golf Notes
by Chandler Withington, Head Golf Pro
Guests
When inviting guests to Hazeltine this year, please encourage them to arrive and utilize the bag drop and valet. Upon arrival, our guest experience manager, Cory Capitani, will direct your guests towards either locker room. Cory will also be the main point person for directing guests to their host member and ensuring the first touch points of their experience at Hazeltine are personal.

We strive to have fewer guests parking themselves, changing their shoes in the parking lot, and carrying their clubs up to the clubhouse or to the driving range. Please communicate to your guests where to proceed upon arriving and let us take it from there!
Operation 36 Junior Program
The Hazeltine National Junior Golf Program is debuting the Operation 36 framework to structure a new series of lessons for juniors 18 and under. It consists of coaching, playing, and training programs and is designed to teach golfers to play the game from a hole out perspective. Click here to learn more.
Caddies for the Men's Invitational and Fischer Cup
In past years, we have allowed members to bring their own caddies for the Men's Invitational and Fischer Cup. This was initially allowed because we did not have enough caddies on hand to fulfill every request. In recent years, we have had a high number of caddies go without work during these two events due to the amount of outside caddies being brought in. Going forward, participants will only be allowed to use Hazeltine caddies. We appreciate your understanding of this change.
Qualifying for the Minnesota Men's State Amateur
The Minnesota Men's State Amateur will be held at Hazeltine National July 16-18. As the host site, the Minnesota Golf Association has allowed us to grant two exemptions. The first exemption has been extended to the 2017 Men's Club Champion, Jordan Ryan. The second exemption will be extended on Friday, July 6, when we host our own stroke play qualifier. Please note: all players who intend to play in this qualifying event must first participate in one of the qualifiers being held by the MGA. For a full list of qualifying sites, please visit mngolf.org and click on the 'Championships' tab. Only players who have played in one of the MGA Qualifiers will be eligible to play in the qualifying round on July 6.
---
Upcoming Golf Events,

Register Now
Registration for the Men's Guest Day on June 13 is Open
There is still room remaining for teams to register for the Men's Guest Day on June 13. The event begins with a 1:30 pm shotgun start and concludes with a dinner following play. The price of the event is $500 per foursome. Please visit ForeTees to register.
Men's Mixer: Saturday, June 9
Our second Men's Mixer of the season will be held on Saturday, June 9. Play begins with an 8:30 am shotgun start. Sign up is done individually through ForeTees. The Mixers are a great way to meet other members of the Club. We hope to see all of you with us on the 9th.
Couples Golf
Registration for our first couples golf event, being held on Friday, June 29, is now open on ForeTees. This will be the first in a series of four couples golf events throughout the summer. The event will begin with a 5:30 pm shotgun start, with dinner following play. Grab your better half and enjoy a date night on the course!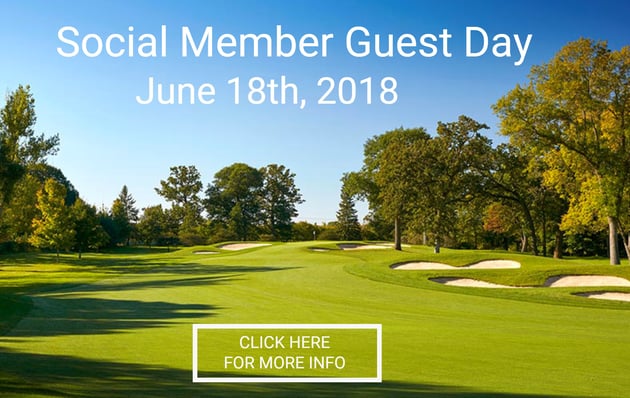 ---
League Results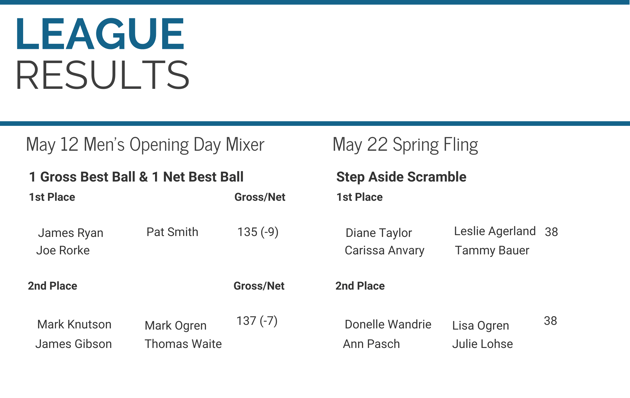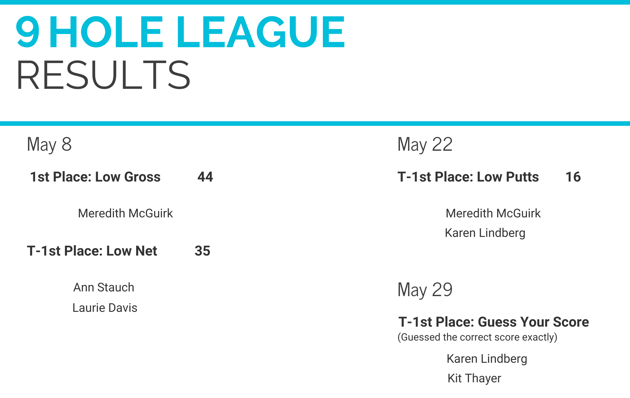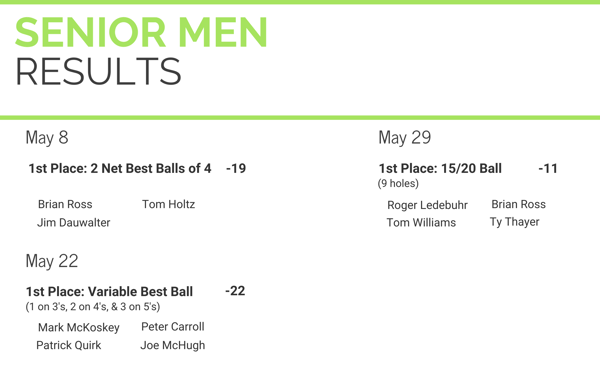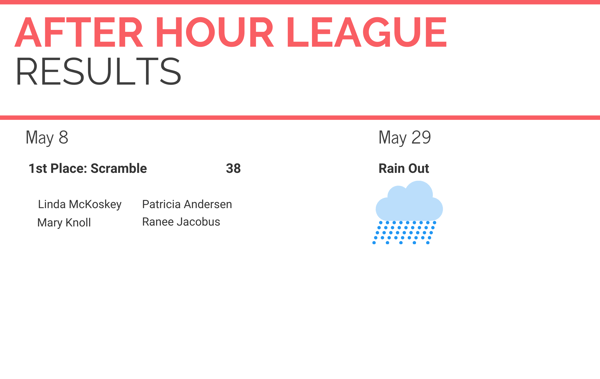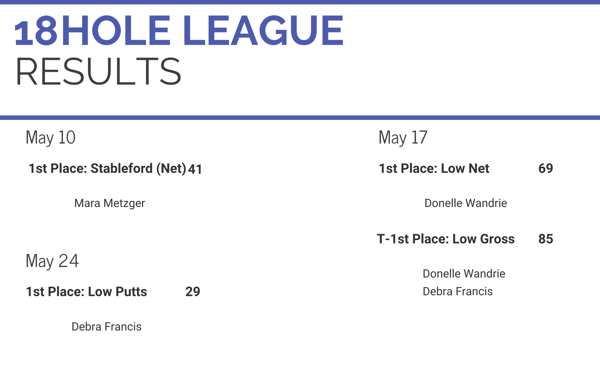 ---
Welcome New Members
Golf Members
New Golf Members
Mitch and Sara Patrick
Mitch and Sara converted from Social members to Golf members this month. With their kids getting older and really getting into golf, they saw this as the perfect opportunity! Mitch loves the traditions, sportsmanship, respect, and trust that comes with the game. He has been golfing since he was young.

Michael and Christine Ralston
Michael and Christine are excited to meet and socialize with fellow members. They have attended events at the old and new clubhouse, but are excited to be members themselves. Michael and his son Kasey will use the course a lot. As a family, they look forward to the volunteer opportunities with the PGA event coming up.
New Social Members
Matthew and Michelle Frerichs

Jim and Kathy Demuth

Chris and Kristina Werner
---