2018 Golf Season Countdown
Five Questions with 2017 Men's Club Champion, Jordan Ryan
Jordan Ryan captured his third Men's Club Championship title in 2017, and intends to hold onto it in 2018. He explores his love/hate relationship with 18, explains why next season is always the best, and shares some golf goals for the coming season. Read the blog.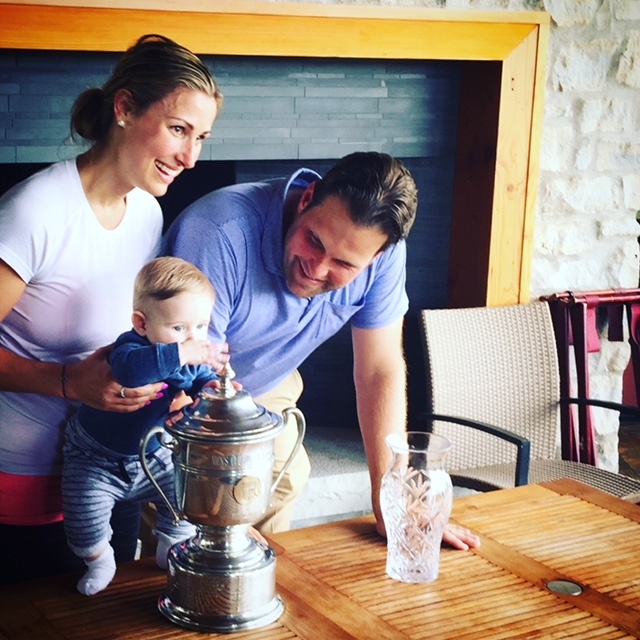 ---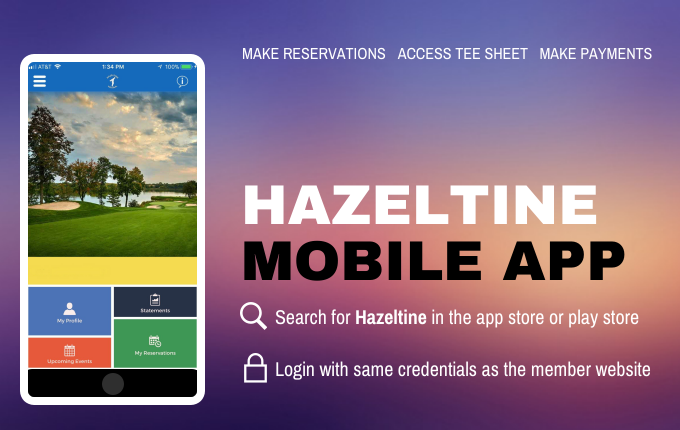 ---
Welcome New Members
Golf Members
Welcome Bruce & Michelle Johnson, who joined Hazeltine as Golf Members. They love the game, its rules, traditions, and history, which is why they chose Hazeltine. They have friends among the membership and are looking forward to playing with other members.
---
Golf Staff Update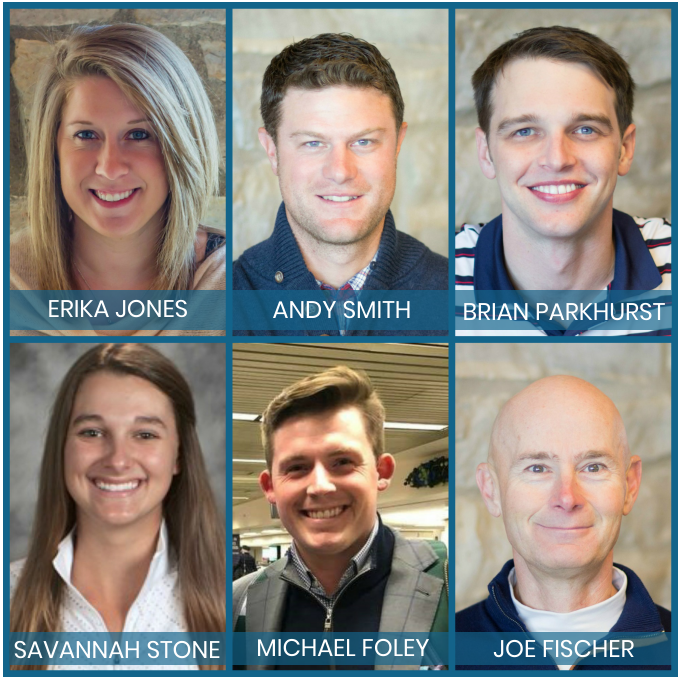 A familiar face has returned to our team for the 2018 season. Erika Jones returned to Hazeltine last week as our Merchandise Manager. Erika spent two summers with us in 2014 and 2016. Between her time at Hazeltine, Erika spent the 2015 and 2017 seasons at Olympia Fields Country Club in Chicago where they hosted the 2015 U.S. Amateur and the 2017 KPMG Women's PGA Championship. Erika brings a wide range of merchandising experience along with her. Please reach out and make her feel welcome again!
Andy Smith returns for his 5th season at Hazeltine as our Lead Assistant Professional. Along with overseeing the majority of our club events, Andy has a passion for equipment and club fitting. You can expect to see Andy on our lesson tee on a regular basis, ready to answer any questions you have about equipment.
Brian Parkhurst returns for his second season as an assistant professional. Brian will continue to oversee our entire Junior Golf Program, as well as the 9 Hole League.
We have added two new assistant professionals to our team. Savannah Stone is a recent graduate of Concordia University, where she played on the women's golf team. Savannah will be overseeing the After Hours League, 18 Hole League, and Couples Golf events this season. Michael Foley is a graduate from the University of Northern Iowa and has spent the last two seasons at Sea Island Golf Club in Georgia. Michael is a Brainerd native and is excited to be returning to Minnesota. Michael will be overseeing the Men's League (Thursday nights), a range of member events, and our corporate golf outings. Both Savannah and Michael will start with us in early May.
Joe Fischer continues in his role as Outside Operations Managers. While Ben Cockrill returns for his second season as our Caddiemaster.
Returning to our golf shop staff will be Jim Arnold (in his 39th year at Hazeltine), Steffi Neisen (5th year), Brenna Lervick (4th year), Alex Schmid (3rd year), Lauren Wise (3rd year) and Emma Groom (2nd year).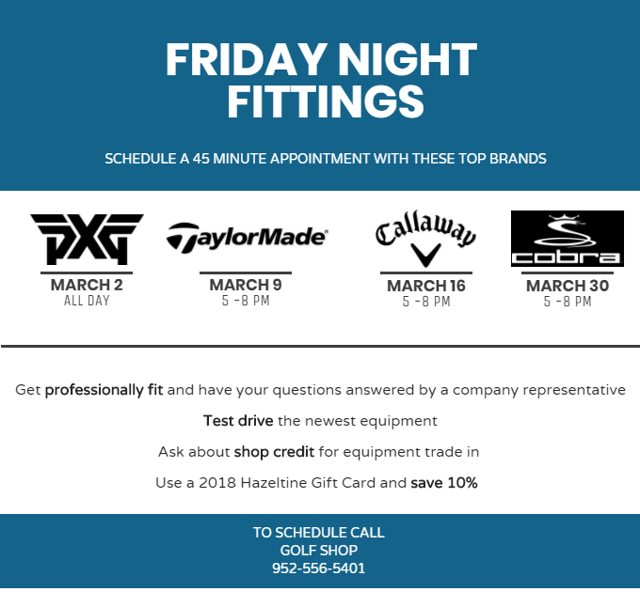 ---
Annual Golf Ball & Glove Promotions
Titleist ProV1
Buy 3 dozen ProV1 or ProV1X and receive the 4th dozen free. You may customize your ball number and personalized imprint. Ball numbers 00 – 99 are available and imprint color options are: black, blue, green, red and pink. Pink numbered Pro V1's are available in standard play numbers 1-4. Offer expires on April 22.
TaylorMade TP5/TP5x
New for 2018, TaylorMade is offering a buy 3 dozen TP5 or TP5x and receive the 4th dozen free. Personalization includes the following: 3 options of text (Helvetica Bold, Times Block, or Script); and 5 color options (black, red, green, blue, and lite blue). Offer expires April 1.
Srixon
Buy 3 dozen get the 4th dozen free on all Srixon models, including Z Star, Z Star XV, Q Star Tour, Q Star and Soft Feel. Personalization includes up to three lines of 17 character spaces and the following color options: black, blue, red, green, orange, pink and purple.
FootJoy/Titleist Glove
Buy 5 FootJoy StaSof or Titleist Players gloves get the 6th free of the same model and size. If you don't know your size stop by the golf shop to be fit. Offer expires April 22.
To place your order contact the Golf Shop at 952-556-5401 or email Andy.

---
Pre-Paid Gift Cards Available Now
Enjoy discounts on your future golf shop purchases by using pre-paid gift cards.

Pre-paid gift cards can be purchased now through April 8, 2018. The minimum purchase amount is $500 and the maximum amount is $5,000. There is no expiration date.

The program going forward is slightly different than in previous years. When you use a gift card purchased this year to pay for clothing, you will receive a 25% discount; you'll receive a 10% discount off equipment and accessory purchases. Gift cards cannot be used on some special promotions throughout the season; including the spring Titleist personalized golf ball promo, other promotions, or sale items.

Gift cards purchased in prior years will be honored for their remaining value. You will not receive additional discounts when you use pre-2018 gift cards, as additional value was added to them at time of purchase. Deadline is April 8. Contact the Golf Shop at 952-556-5401 or stop in to purchase.
Pre-Paid Green Fees
Take advantage of the opportunity to purchase six guest fees at the discounted price of $75 each (plus tax). Offer deadline is March 31, 2018. You will be billed on your April statement. Contact the Golf Shop at 952-556-5401 for the form.
---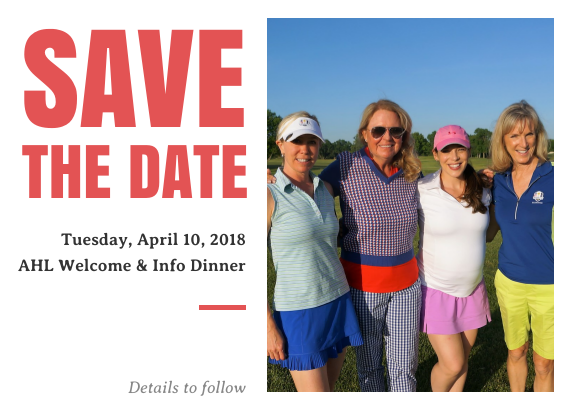 ---