As I began the year, I asked myself, "What three areas of my game, if improved, would make the biggest impact?" After giving the answer careful thought, I landed on the following:
Putting

Chipping and Pitching

Creating an effective routine where I commit to each shot
Don't Focus on Scores
As I work on my own process of improving, I want to caution all of you who are doing the same not to get too wrapped up in the scores that you are posting. I am always keeping a vision of where I want to go without setting a timetable of when I will arrive at my destination.
I am sharing this because too often I see students get too tied up in seeing early returns on the improvement process. How many of us have ever taken a lesson and then seen our games get worse? That is a natural byproduct of learning something new. Some quickly abandon ship and return to what they were doing prior because they didn't see immediate improvement. Others stay the course and endure the hardship, knowing if they can learn the new skill their game will be better off in the long run.
Focus on the Positives
On May 8th, I played in my second event of the year, the US Open Qualifier at Midland Hills. I posted an 85. On the surface, it looks like a complete disaster. However, I only look for positives. The focus of this blog is to be transparent about my own improvement process, so here is what I took away from the day:
Routines
My goal for the day was to go through my routine and commit to each shot. I wasn't caught up in what I shot, as much as sticking to my routine and playing each shot with full commitment. I gave myself a C+ on Monday as there were many shots where I didn't fully commit (more on commitment to each shot in a future blog.)
Chipping and Putting for par
With the exception of one hole (calamity of errors), I was always around the green with a good chance of getting up and down to save par. My entire day was chipping the ball to 5 – 8 feet and not converting the putt. Within that last statement, two things stand out to me:
Looking back at where I played my chip shots, I consistently left myself a tough breaking putt. Had I paid more attention, I would have focused on chipping the ball to an area where I would have a more makeable putt.

I wasn't seeing the line of the putt very well, and the majority of my putts missed to the right. Whenever I feel like this, it usually means something is off with my putting setup (more on this in a future blog.)
If I had been effective at chipping and putting on Monday, my score could have easily been around 74 – 76. Hence, those two areas are at the top of my three biggest areas to improve in 2017.
Takeaway
The thing I want to drive home here is that I am constantly learning and looking to identify the areas where I can improve. I don't look at my score as a level of success or failure, but rather an indication of where I am currently. I encourage each of you to do the same – stay patient and stay the course, the results will come over time.
What are your three biggest areas that you can improve this year to make the biggest impact on your game?
Check out another one of our articles that gives you ten suggestions on how to improve your golf game.
---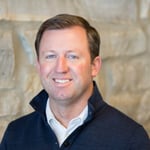 Chandler Withington is Hazeltine's Head Golf Professional. Prior to leading golf operations at Hazeltine, Withington was on the golf staff of Merion, Seminole Golf Club, and other highly regarded clubs. Withington is a historian of the game, and values the life lessons learned on the course.
Hazeltine National Golf Club is a private golf club located in Chaska, MN. The club opened in 1962 with a mission to build and maintain a golf course suitable for the conduct of national championships. Hazeltine has hosted the U.S. Open, PGA Championship, U.S. Senior Open, U.S. Women's Open, U.S. Amateur, and Ryder Cup. Hazeltine's meeting and event space, golf shop and specified services in the learning center are open to the public.