Planning a Sports Banquet in the Twin Cities
High school and young athletes work so hard through the season (and beyond) - long hours at practice, traveling to games, matches and tournaments and dealing with hard-fought wins and tough losses. At the end of the season, a sports banquet is a wonderful way to acknowledge all of their hard work and thank the parents and coaches as well!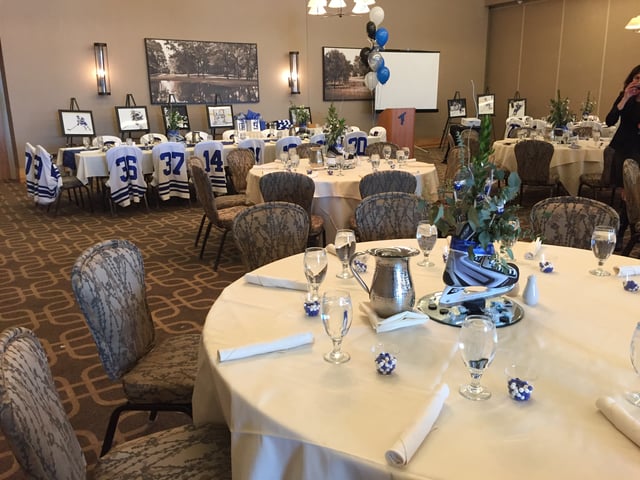 If you're in charge of planning your team's sports banquet, you want to make sure the event is a success. Here are some tips to plan a great sports team banquet to celebrate your Twin Cities athletes.
Twin Cities Sports Banquets: Decide on a Theme and Purpose
First - decide on the banquet's purpose. Is it an awards ceremony? A fundraiser for equipment or travel next season? Is it simply a celebration? Deciding on the purpose can help you decide on a theme.
A formal sports banquet is a great way to honor the athletes and coaches - and say thank you to parents as well for their dedication through the season. Hosting your sports banquet at a private club sets the tone that this will be a special and unique event for the athletes and their families.
High School Sports Banquets: Plan a Program
If you're giving out awards at your high school sports banquet or having speakers, plan out your program. This will help your event space in the Twin Cities know what type of equipment you might need for audio or video. Your event planner will also help you plan out the best times for presentations if you're doing a sit-down meal as part of the team banquet. A guest speaker is a nice touch to engage the athletes at your event. Consider bringing in a player from a local college or minor league team to talk to the team.
Athletic Team Banquets: Decorating the Space
Now that you've chosen your event space for your banquet, it's time to think about decorations and favors. First - use your school colors in decorations, invitations or table linens.
If you're celebrating a high school team, we love the idea of using team photos of the athletes now - and pictures from when they first started playing basketball or football or golf. It's even fun to just use photos of the athletes as little kids and try and guess who's who. Providing favors tied to your sport is also a nice touch - perhaps you let guests take home small bags of chocolates shaped like baseballs, basketballs or golf balls.
Hazeltine National Golf Club is a private golf club located in Chaska, Minn., about 30 minutes southwest of downtown Minneapolis. The club opened in 1962 with a mission to build and maintain a golf course suitable for the conduct of national championships. Hazeltine is one of only two courses in the United States to have hosted the U.S. Open, PGA Championship, U.S. Senior Open, U.S. Women's Open, U.S. Amateur, and Ryder Cup. Hazeltine's meeting and event space, golf shop and specified services in the learning center are open to the public. More information about becoming a member at Hazeltine is available at www.hazeltinenational.com.
Topics: Sports Banquets