Since 1962, when Hazeltine National Golf Club was conceived by Totton P. Heffelfinger, it has been carrying out the mission to build and maintain a golf course suitable for the conduct of national championships. Heritage Hall includes a substantial array of historical club artifacts dating back to the club's founding.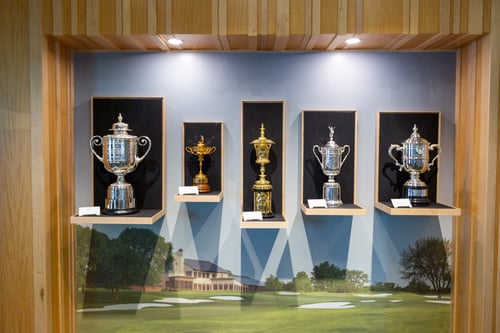 Indulge yourself in Hazeltine's history by reliving each championship's display showcasing memorabilia and timeless stories. Each championship is featured with a plaque giving a brief description paired with a list of included artifacts. Finally, stroll across replicas of the famous PGA Championship Trophy, Ryder Cup Trophy, U.S. Amateur Havemeyer Trophy, U.S. Open Trophy, and U.S. Women's Open Trophy (pictured).
The 75-foot-long hall is highlighted as the connection between Hazeltine's Golf Shop and member dining facility. The Champions Walk reflects these themes and each case honors Tot's vision for championship golf.
Dedicated to curating the collection is The Heritage Committee, a group of club members committed to not only preserving the history of the club, but showcasing it to fellow members, guests, and visitors.