As soon as the final putt fell and the curtain dropped at the 2023 United States Amateur Championship at Cherry Hills Country Club in suburban Denver, CO, all eyes on U.S. amateur golf turned to Hazeltine National Golf Club, the site of the USGA's most prestigious amateur championship in 2024. This will be the 9th USGA Championship hosted at Hazeltine National and the first U.S. Amateur Championship since 2006 when Richie Ramsay of Scotland captured the title. Chaska Town Course will once again co-host the U.S. Amateur in 2024.

"I am immensely proud to have won the U.S. Amateur at Hazeltine National in 2006," said Ramsay in an interview shortly after Hazeltine was announced as the 2024 host site. "It is a great course that provides a stern test, and I am thrilled to see the championship return along with many of the best courses in the U.S."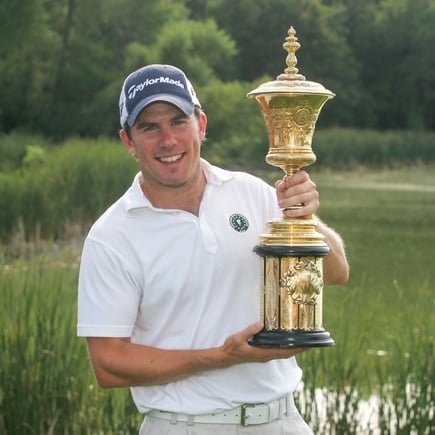 Richie Ramsay will be forever known as the 2006 U.S. Amateur champion. However, you may not recall some of the other competitors that year who were ousted before the championship match. Golfers like Rickie Fowler, Dustin Johnson, Billy Horschel and Webb Simpson, competed that year. Both Fowler and Simpson fell to Ramsay. Horschel shot a USGA championship and Chaska Town Course record of 60 in the stroke play qualifying. Budding star power abounds in the U.S. Amateur, which makes it one of the most exciting USGA events of the year.
"We are thrilled to be the host site for one of the most exciting and pressure-packed championships in United States Golf," said General Manager Phil Anderson. "These are the best amateur golfers in the world competing in a coveted championship. Some of the best players in golf have won the U.S. Amateur. Tiger Woods, Phil Mickelson, Viktor Hovland, Matt Fitzpatrick, Matt Kuchar, and of course Bobby Jones, Jack Nicklaus and Arnold Palmer."
Among the many USGA championships hosted at Hazeltine National are the 1970 and 1991 U.S. Open Championships, the 1983 U.S. Senior Open Championship, and the U.S. Women's Open Championship in 1966 and 1977. Living up to its mission as a golf club rich in tradition, dedicated to hosting championship golf, and delivering exceptional experiences, Hazeltine is poised to continue to do just that in 2024 and beyond.
"We have enjoyed a wonderful history with the United States Golf Association that goes back to our founder Totton Heffelfinger, who was the president of the USGA from 1952-53," explained Club President Dan Mulheran. "Hosting major championships is part of our DNA, and we have been fortunate to act as the stewards to some incredible tournaments. Along with our friends at Chaska Town Course, we certainly expect the 2024 U.S. Amateur to be another significant chapter in our storied history."
The 2024 U.S. Amateur Championship will be contested August 12-18. Early round stroke play will take place at both Hazeltine National Golf Club and Chaska Town Course with match play hosted at Hazeltine National.
Topics: Championships