2024 U.S. Amateur Championship at Hazeltine National Golf Club
2024 U.S. Amateur Championship at Hazeltine National Golf Club
2024 U.S. Amateur Championship at Hazeltine National Golf Club
2024 U.S. Amateur Championship at Hazeltine National Golf Club
2024 U.S. Amateur Championship at Hazeltine National Golf Club
2024 U.S. Amateur Championship at Hazeltine National Golf Club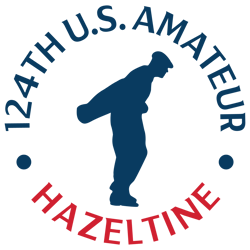 Hazeltine is Excited to Host the 2024 U.S. Amateur Championship
Join us August 12 – 18, 2024 for the U.S. Amateur Championship!
Hazeltine National Golf Club is proud to have been selected by the United States Golf Association to host the 124th U.S. Amateur Championship.

The 2024 championship will be contested at Hazeltine for the second time and in Minnesota for the fourth time — Hazeltine National Golf Club, 2006 – Richie Ramsay; Minneapolis Golf Club, 1950 – Sam Urzetta; and The Minikahda Club, 1927 – Bobby Jones. Minnesota is fortunate to have a vibrant golf community, and we look forward to celebrating that during the championship.

The U.S. Amateur Championship was established in 1895 and is open to amateurs who hold a USGA Handicap Index of 2.4 or less. The U.S. Amateur features an elite field of national and international players who advance through state and sectional qualifiers to gain entry into the championship.

Past participants and champions include a "who's who" of professional golf. Since the early days of Chick Evans and Bobby Jones, the USGA's Amateur Championship has identified the game's next generation of stars. Renown names to every golf fan — Arnold Palmer, Jack Nicklaus, Phil Mickelson, Tiger Woods, and 2022's U.S. Open Champion, Matthew Fitzpatrick, among many others — learned to compete at the highest level in this very championship. Hazeltine is excited to welcome 312 of golf's rising young players to its storied fairways in August 2024. Quite possibly, it will be the first of many Minnesota visits for these competitors with Hazeltine set to host the Ryder Cup in 2029 when the club becomes the first in the country to host a Ryder Cup for the second time. No doubt, the next generation of stars will see their careers propelled at Hazeltine.