Passion for Golf is a Family Affair
They say golf is a lifetime sport because you can physically play it throughout your life. But perhaps one reason many continue playing is because golf becomes a tradition in their family. They start playing with their parents and then teach their kids the game. Nobody knows that better than Hazeltine member Mike Stankey, as the game for him is truly a family affair.
Learning The Game
Stankey started playing golf when he was 11 years old, growing up in northeastern Wisconsin. The rock-filled course he played on wasn't as nice as the other courses he played when competing in high school golf, but it was the place he learned a game that he could play with his dad.
"For me, golf started as a way to spend time with my dad and became something for us to do and talk about when I was in my teens – and didn't think adults understood much about the world in which I lived," Stankey says.
Knee injuries limited him in football and basketball in high school, but golf gave Stankey the competitive outlet he needed. As he got older, his career and travel pulled him away from the game, but after the arrival of his first son, family pulled him back.
Family Time
"The arrival of our first son also gave birth to the idea that my wife, Therese, and I could play golf with our kids," Stankey says. "We joined our first golf club when my oldest son was five, our daughter was four, and our youngest son was two. Their love for the game rekindled my own. Now, I play almost all of my golf as a family event and it's been a wonderful way to stay connected."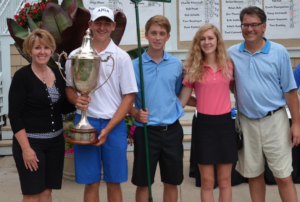 And it has been golf for the Stankey's ever since. The family became members at Hazeltine in 2011, and the three young left-handed golfers created a unique sight on the practice range.
"We were initially attracted to the idea of providing a great test of golf for our children, but we quickly realized that one of the best parts of Hazeltine was the membership and staff," Stankey says. "Our kids were welcomed enthusiastically on the range, on the course, and in the clubhouse by people who shared our respect for the game and for the people who play it."
The Next Generation
Stankey's kids play some competitive golf of their own—with his oldest, Scott, winning the Hazeltine Junior Championship in 2013. While Stankey credits his athletic wife for passing on their natural talent, they both provided the opportunity for their kids to play the game, made it fun for them, and then let them find it on their own—to great success.
"Scott, now a college freshman, carries a 0.5 handicap; and Paul, now a high school sophomore with a +2.5 handicap, won state last year with his teammates at Providence Academy," he says. "Christina, now a high school senior, is also a fine player who has made multiple appearances at the Minnesota State High School Tournament."
Mike Stankey's career has come full-circle in that it has brought him back to golf. Stankey is president and COO of Workday (which creates and operates accounting and human resources software for large global enterprises), and his company is represented by several touring pros, including Davis Love III, captain of the 2016 U.S. Ryder Cup Team.
"We are really looking forward to seeing Davis at Hazeltine later this summer for a Workday event when he captains one of two teams of executives competing in a modified Ryder Cup format," Stankey says. "Ben Crenshaw will captain the other team, so we'll have two former Ryder Cup captains at Hazeltine this summer."
In the meantime, it's more golf with the family—and there is no better place for the Stankeys than at Hazeltine.
"Given the intensity of my work and travel schedule, golf has been an important rallying point for our family life," Stankey says. "The whole Hazeltine experience has been welcoming and fun, and created great memories. Therese and I hope our kids' attachment to the game, and to the place, continues to bring them together for many years after we are gone."
Hazeltine National Golf Club is a private golf club located in Chaska, Minn., about 30 minutes southwest of downtown Minneapolis. The club opened in 1962 with a mission to build and maintain a golf course suitable for the conduct of national championships. Hazeltine is one of only two courses in the United States to have hosted the U.S. Open, PGA Championship, U.S. Senior Open, U.S. Women's Open, U.S. Amateur, and Ryder Cup. Hazeltine's meeting and event space, golf shop and specified services in the learning center are open to the public. More information about becoming a member at Hazeltine is available at www.hazeltinenational.com.
Topics: Member Stories