Like most of the members of the top golf clubs in the country, Chad Hunt is a golf guy. He joined Hazeltine National because he loves the game, wanted to spend more time with his teenage son, and thought a membership would be good for business. But despite those traditional reasons for joining, Chad's camera roll is anything but traditional.
"In the winter when there is snow, I have taken my fat tire bike out to Hazeltine. I know where the cart paths are to ride around the course," he says. "I have also taken our Golden Retriever, Maddie, out for walks and she loves the ponds (below)."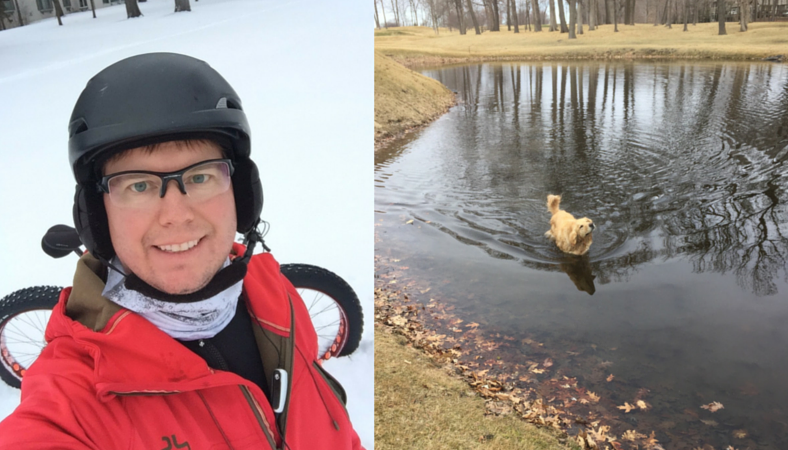 Still, the course is the main draw. "Since I first experienced the 1991 U.S. Open, it was a dream of mine to become a member someday," says Chad. "The excitement of the 2016 Ryder Cup certainly helped, but was lower on my list of overall reasons to join. I wanted to meet new people and to have a place where I could meet others also passionate about golf. I like that the course is primarily for walkers and I really play better and enjoy the beauty of the course when I walk."

A recent sports injury has prevented him from walking so far this season, but he is making a recovery. And he really enjoys playing with his 14-year-old son, Joey.

"We joined with a major goal in mind for me and my son to get better and to really dig deeper to learn the game of golf. We liked that they have a practice facility like no other, two wedge ranges, north and south driving range that can simulate holes and multiple targets, two large practice putting surfaces, an indoor putting green and golf studio for lessons in the offseason."

"For my son and me, it's a chance to really connect when we are out golfing and can be uninterrupted for four hours."


And what about the rest of the family? "My wife and daughter don't really golf," he says, "but when there has been golf on ice and night golf they really have enjoyed that." And everybody loves the food in the clubhouse — especially the ribs.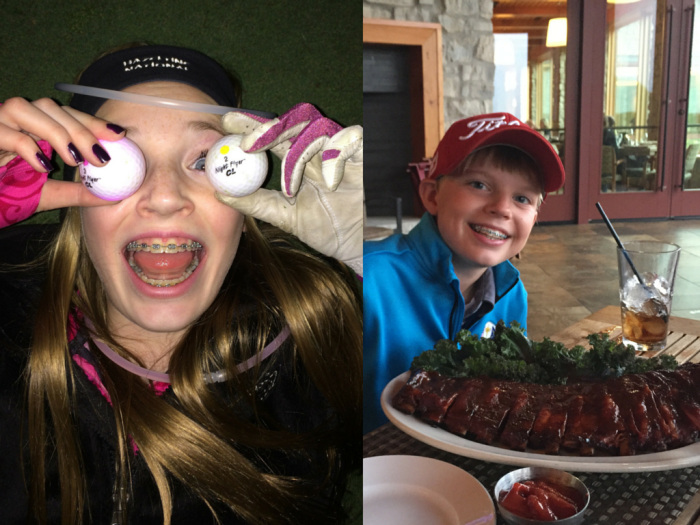 Besides the family bonding, Chad and Joey also enjoy playing golf with other Hazeltine members. "The number of golf connections we've made for Joey has been absolutely a game changer," says Chad. "There are so many great people and other father-son combos we've met and played rounds with. Can't put a price on that!"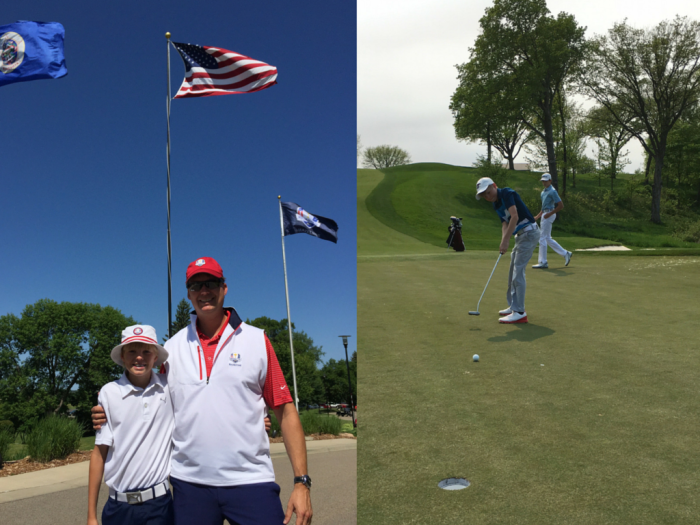 Speaking of "value," Chad notes that Joey can take junior friends out on the course for a minimal fee. "He never has a problem with kids saying no!" he jokes.
And he really values the friendship Joey has developed with Paul Stankey — who finished 2nd in the Class AA State High School Golf Tournament last year. Paul has become a mentor for Joey — along with Pro Chris Baisch — and when they won the Hazeltine junior championships in their respective age groups, Paul and Joey celebrated in style.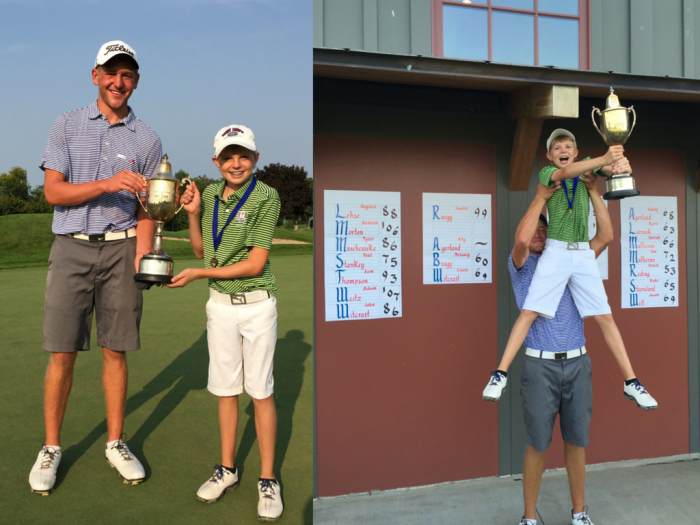 And what about using the club for business? That's gone even better than he expected. "Asking my clients and prospects to come and play has been amazing!" he says. "I find that people will drive very long distances — no pun intended."
As Senior Vice President for Griffin Capital Markets Group, Chad's clients cover the five-state area, but they'll quickly drive 250-300 miles just for a chance to play golf at the club. "Many times people will rearrange their calendars just to have the Hazeltine Experience," he says.
Chad recently hosted an event for more than 70 clients at the club, and was able to dodge the rain to make it a huge success. Check out the details in this blog post.
Hazeltine National Golf Club is a private golf club located in Chaska, Minn., about 30 minutes southwest of downtown Minneapolis. The club opened in 1962 with a mission to build and maintain a golf course suitable for the conduct of national championships. Hazeltine is one of only two courses in the United States to have hosted the U.S. Open, PGA Championship, U.S. Senior Open, U.S. Women's Open, U.S. Amateur, and Ryder Cup. Hazeltine's meeting and event space, golf shop and specified services in the learning center are open to the public. More information about becoming a member at Hazeltine is available at www.hazeltinenational.com.
Topics: Member Stories