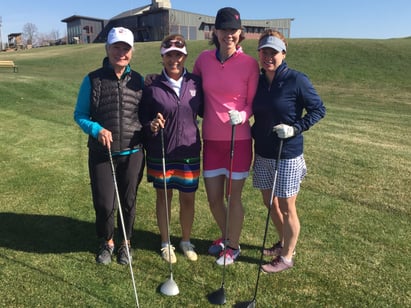 Strong organizations rely on strong teams to succeed. One great way to build teams is through a golf outing. Sports can help unlock creativity through their nature as 'play' as opposed to a normal day of 'work.' Not to mention, the opportunity to get together, break into teams, and play the game so many of us love is pretty enticing.
Golf, in particular, is a sport that requires a varied set of skills to propel a ball from the tee to the hole, again and again for 9 to 18 holes. While professional golfers possess all of the necessary skills, it is unlikely most citizen golfers do. As a team building tool, that lack of universal skill can be an advantage, rather than a disadvantage. Each team member brings their own strengths and weaknesses. The primary goal should be to learn that the work of a team can be more powerful than that of any one individual.
Planning a Team Building Event for All Skill Levels
To encourage team building, divide your "players" into teams comprised (as much as possible) of people with varying levels of golf experience and skill. Create special rules for play which will allow each player to take strokes, while only the best shots count. Teams will learn to rely on each other, and even build their skills, as the round progresses. Non-golfers may even find they have hidden talents.
This approach to team building encourages trust to build and may even turn perceived vulnerabilities into creativity. As each hole (or drive or putt) is 'solved,' the team moves on to the next challenge. Golf becomes more than a game. It is the vehicle that drives a creative, dynamic process of learning and growing, all leading to accomplishing a shared goal.
Consider Doing Links & Drinks
Whether you play best ball, a scramble, or a shamble format, 18 holes of golf takes up most of the day. So, a "links and drinks" format may be your ticket as the most effective way to host a golf team building event.
Instead of a day on the course, "links and drinks" gives you time to mix golf with meetings and other team building activities (and then have the drinks). After all, traditional golf events give folks plenty of time with their golf teammates, but not much time with anybody else. "Links and drinks" offers more time away from the course, which means more time to focus on either small or large group activities.
Whether you are planning an all-day meeting with the "links and drinks" as a fun ending to the day, or using the "links" as the entertainment in the middle of your meetings, a typical event would include group instruction from a teaching pro, and an opportunity to work on some skills – either on the range, the putting green, or a golf simulator (during the off season or inclement weather).
There might even be an opportunity for a brief skills challenge, but remember, the focus is on team building, not competing. A full day of golf can actually be pretty intimidating for weaker golfers, so the less intense/competitive atmosphere of "links and drinks" should make them feel more comfortable (and maybe feel more like part of the team), while giving the rest of the group an opportunity to enjoy the game they love – while still setting the stage for other kinds of team building activities.
Learn More About Our Packages
The Links & Drinks package at Hazeltine is a great option for team building events, and available to groups as small as 10 people or as big as 40 people. There's no need for member sponsorship either. It provides a good balance of golf, food and drink, and building up that team morale. Golfers will get instruction on their short game (chipping, pitching and putting). Then it's the group organizer's choice of a BBQ or heavy hors d'oeuvres in a private room at Hazeltine. A customized bar is also available, because what's golf without the 19th hole?
If you are interested in hosting a golf outing, you can learn more about planning a successful corporate golf event with our Complete Guide to Organizing a Private Golf Outing.
Hazeltine National Golf Club is a private golf club located in Chaska, Minn., about 30 minutes southwest of downtown Minneapolis. The club opened in 1962 with a mission to build and maintain a golf course suitable for the conduct of national championships. Hazeltine is one of only two courses in the United States to have hosted the U.S. Open, PGA Championship, U.S. Senior Open, U.S. Women's Open, U.S. Amateur, and Ryder Cup. Hazeltine's meeting and event space, golf shop and specified services in the learning center are open to the public. More information about becoming a member at Hazeltine is available at www.hazeltinenational.com.