Manager's Minute
by Eric Rule, General Manager
Club Championship Weekend
This is it! By 6:00 pm this Sunday evening, we will have a new Club Champion in our Junior, Women's and Men's categories! Who will be crowned the best golfers of Hazeltine? Well, this year you can watch the competition on Sunday afternoon for all three titles. We encourage everyone to come out and watch. Carts will be complimentary for following all the groups on the back nine. Come out and root on your favorites.

After play will be the Mike Schultz dedication in front of the Golf Shop. This is your last chance to get your memoir in to include in the time capsule. The ceremony is planned for 6:30 pm and the picnic to follow. Look forward to seeing everyone out for a great afternoon of golf and history!
Breakfast
Did you know that we serve breakfast Tuesday through Sunday? While many of our weekend golfers take advantage of this, it is available during the week as well. What better place to have an early morning casual business meeting than looking over the rolling terrain of Hazeltine. No need to make a reservation, stop in and enjoy!
Rules, Rules, Rules
No, it's not my family members! It is those reasonable, understandable, and fairly enforced policies and regulations that reflect our traditions and expectations when we are at the Club. They apply to everyone and are developed to ensure your visit is consistent with everyone else's. From things like cell phone use, dress code, cart use, and tee time scheduling, rules make it fair and enjoyable for everyone.

Members are responsible for their guests adhering to our rules. Remind your guest arriving for dinner in a tee shirt that it is not appropriate and suggest they buy a shirt in the golf shop. Remember that men's hats are not to be worn inside or be worn backward on the golf course. Hats by women are acceptable indoors.

The staff has a tough job of reminding members of minor violations of our rules. Management staff will deal with those times when something may be a little more sensitive. Please understand their guidance is meant to have everyone adhere to the same standards.
---
Golf Notes
by Chandler Withington, Head Golf Pro
Golf Facilities During Aerification
While aerification is completed between July 31 and August 2, here is a schedule for golf facilities:

Tuesday, July 31
Golf Shop: 9 am – 5 pm
Practice Facilities: Closed
Wednesday, August 1
Golf Shop: 9 am – 5 pm
Practice Facilities: South end only from 1 pm – 7 pm
Thursday, August 2
Golf Shop: 7 am – 7 pm
Practice Facilities: All facilities open normal hours
Fischer Cup - Registration and Partner Finding
For the men – please set a reminder for yourself to register for the Fischer Cup. Registration opens at 7:15 am on Friday, August 3. We encourage all players to register through ForeTees. The Golf Shop phone lines may be tied up at the time of registration, so please be prepared to register online.

For the women – Fischer Cup registration is already open, so please sign up!

If anyone is looking for a partner for this year's Fischer Cup, please email the Golf Shop. We will do our best to get you paired up with a partner before registration opens.

Member-Caddie Tournament
Please join us on Sunday, August 5 for our annual Member – Caddie tournament. This is our opportunity to appreciate the caddies who help us out each summer. After playing a round of golf with a group of caddies in the afternoon, please stay and join them for the banquet dinner. Each year we ask the membership for donations to be given away in raffle at the banquet. If you would like to participate, please drop off your donation at the Golf Shop, or contact our caddiemaster Ben Cockrill.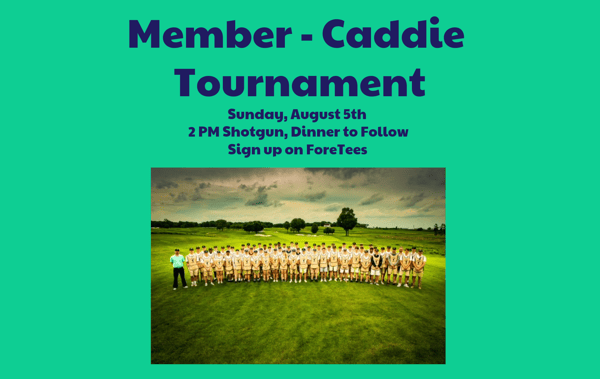 ---
Women's Bus Trip - July 31
Since 2014, the professional staff has taken a bus full of women on the road during aerification week. This year, we head south towards Rochester to see a familiar face. One of our former lead assistants, Adam Chandler, is now the head golf professional at Somerby Golf Club and has invited us to join him there for a day of golf. Following golf, we will head into Rochester for a group dinner before returning home. Entire details for the day and registration for the trip can be found on ForeTees. Please come join us for a fun day on the road!

Mondays at Hazeltine
To provide some clarity on how the Club operates if we are not hosting an outside event on a Monday:
The golf course will open for play at 1 pm
The clubhouse, locker room, and golf shop will all be closed
Guest play is not allowed
The bag room will be open from 12 – 5 pm for players to get their clubs
Restroom facilities on these days will be available at the beverage hut behind the 4th and 13th greens
The Club will be open for normal play on August 6, as well as October 1 and 22.
The Club will be open for normal play on Labor Day, September 3, and closed to host an outside event on Tuesday, September 4.
On-Deck Invitational
On Wednesday, July 11, we held our first Invitational event specifically for members who are currently on the wait list for the Men's Invitational. 56 players competed throughout the day, playing three 9-hole matches. At the end of the three matches, a shootout was held on holes 10, 16, and 18. Seven flight winners and two wild card teams qualified for the shootout. When the dust settled on the 18th green, it was the team of Eric Bull and his guest Chad Lundeen who were victorious. The feedback from the teams who participated in this inaugural event was overwhelmingly positive. Please pay attention to the date for the 2019 event as we expect a larger field!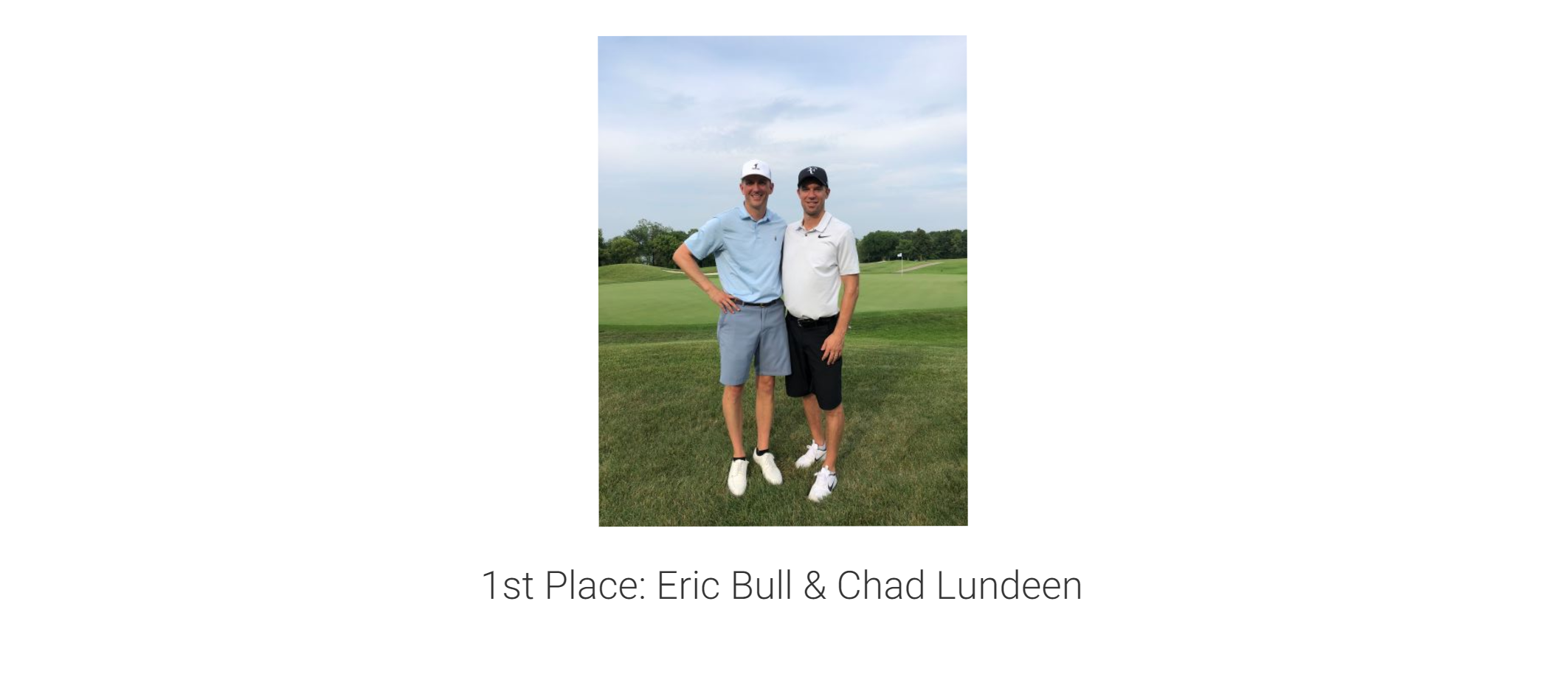 Hole-in-One
Congratulations to one of our newer members, Mitch Patrick, on making his first ever hole-in-one. Mitch aced the 17th hole with a 52 degree wedge from 126 yards on July 6. Mitch was playing with Jeff Klein, Eric Hudgens, and Jesse Bergland. Congratulations Mitch!

Scorecard Collection
The Handicap Committee will begin collecting scorecards from players of all levels between August 16 and September 30. The MGA recently completed a rating of Hazeltine National, our first update since 2013. In addition to new ratings, we will be evaluating the stroke allocations for each hole. Your scores will help us with this process. Thank you in advance!
---
Upcoming Golf Events
---
July Results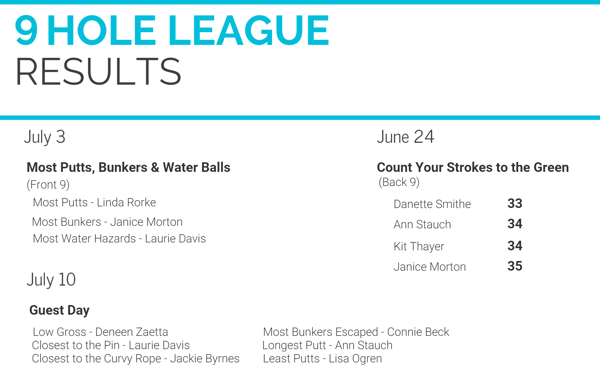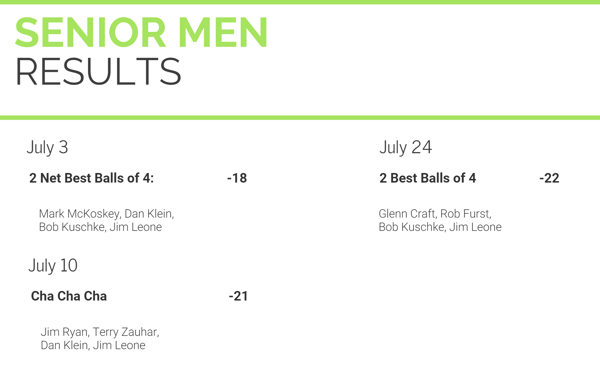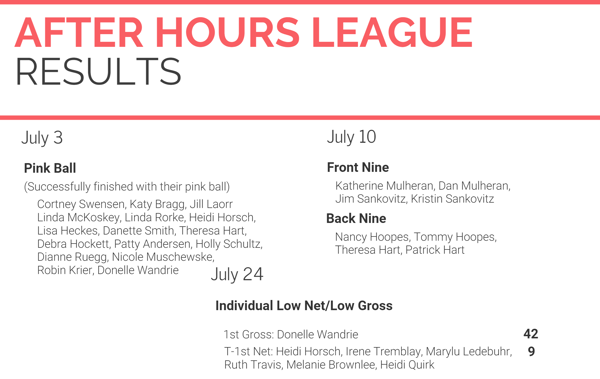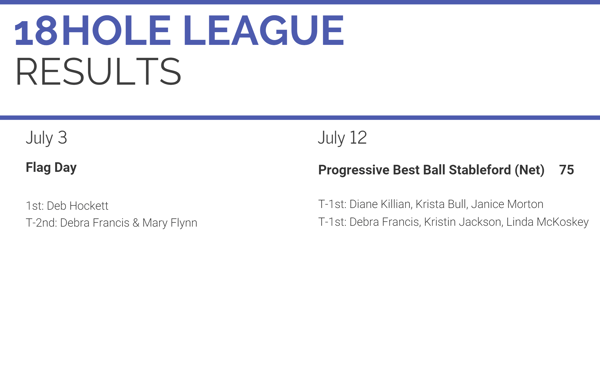 ---
Member Dining & Events

---
Welcome David Berry - Beverage/Dining Room Manager
David has been in the food and beverage industry for almost 20 years. He has spent 8 years at golf clubs and is very excited to help a club with such prestige as Hazeltine. He is looking to add to an already amazing culinary, sales, and front of house staff to try to make Hazeltine's beverage programs and member experience second to none. We are excited to have David a part of our team.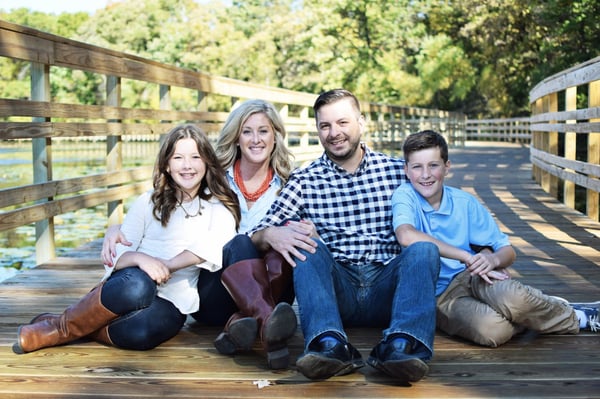 ---