The ultimate goal toward which Hazeltine turfgrass staff and I work each day is providing our members and their guests with the very best golf course possible. No matter what type of course you manage, you'll need people to accomplish your goals. Over the years, I've found that while it is the ultimate goal, creating the very best golf course possible is not what motivates our staff to do the great work required to meet our goal.
We've all experienced those mornings when the alarm clock goes off, and we are so excited for the day we can't help but jump out of bed. This is the feeling we try to create for our staff every day. As a group, we work together, striving to create an environment that makes people feel inspired and excited. They feel this way because they know they'll spend each day working outside, and having fun with friends, all while creating something of which they can be proud.
Creating such an environment does require some work and it requires guiding principles by which everyone should work. Once a culture based on guiding principles is developed, keeping a positive environment requires routine maintenance, more so than complete overhaul. The following are our guiding principles.
Our Guiding Principles
Safety-Protect yourself and your teammates, always work in a safe manner and make sure others are doing so as well.

Working on a golf course is great fun, but no one should lose part of their body because of it. Ears, eyes and extremities all need to be protected and it's everyone's duty to make sure we are all being safe.

Teamwork-Be kind to each other, work as a team to have fun and create something worth being proud of.

Almost all of the work we do is done in teams. Working in a group enhances the fun factor and the sense of accomplishment. One of the great motivating factors in any job is accomplishing, or completing something. Take the task of raking bunkers. Completing the bunkers on one hole and moving on to the next hole gives a sense of accomplishment. When working together, these accomplishments are easier and happen more rapidly, making any task less burdensome and more rewarding.

Commitment-Complete every job at the highest level possible. Create something you and your teammates can be proud of.

No matter the job, commit to doing it to the best of your ability. If someone is part of the bunker crew on Friday and they don't commit to doing a great job, then you've let down those who've done the job on previous days.

Initiative-Take the initiative to do more than asked.

It's not my job, is not a phrase we endorse, and it's not an attitude we have problems with. Doing something as simple as stopping to blow a clump of clippings from a mower helps to make us all better. Initiative and teamwork go hand in hand.

Openness-If you do something wrong, tell someone. Mistakes happen and admitting one is far better than hiding one.

Admitting an error will often avoid another error down the road. We can learn from our mistakes and use them to become better.

Innovation-Never assume the way we do it is the best way. Always look to create continuous improvement through innovation.

If I were to hand a new employee a bunker rake and a photo of how a completed bunker should look, but offer them no training, their last bunker would look far better than their first bunker. Obviously this is not a tactic we use, but it's an example of the inherent nature people have to innovate. Demanding a task be completed in a certain manner limits one's natural desire to find a better way. We allow our employees to constantly innovate the manner in which we maintain the golf course.

Admiration-Never be afraid to admire and share the work you've done.

Taking photos, humble bragging and sharing on social media are all forms of admiration. Employees who are encouraged to admire their work will naturally be inspired to create something worthy of admiration.

Have fun!

I'll never forget how much fun I had in my early days working on a golf course. Fun is far better than not fun.
When the staff gathers each morning, we plan our day and discuss our work in reference to these guiding principles. It's easy and tempting to reference our work in regard to producing a great course, but through experience, we know having a team full of people who enjoy their work will lead to positive results.
Having principles of this nature is all well and good, but if the team doesn't have awareness, or isn't actively working to the principles, they are only as good as the paper on which they are printed. How does one get their team to not only work towards the guiding principles, but also help and support each other in doing the same?
Every season, part of the turfgrass staff uniform is a hat. This season, I wanted to create something unique, and designed something similar to the gray Team USA hats from the Ryder Cup. I wore my gray hat the entire Ryder Cup week and it is one of my most treasured keepsakes from the event. I vividly remember standing in the merchandise tent looking at the team hats and wanting one of each; I had to talk myself out of buying all of them. As I thought about our team hats for the season, I remembered that thought of wanting one of each. I thought to myself; "wouldn't it be cool to create an atmosphere in which the feeling of wanting one of each was able to be used as a motivating factor for the team?" At the beginning of the season, every team members was given a gray hat, but if you want more than one, you'll need to earn it.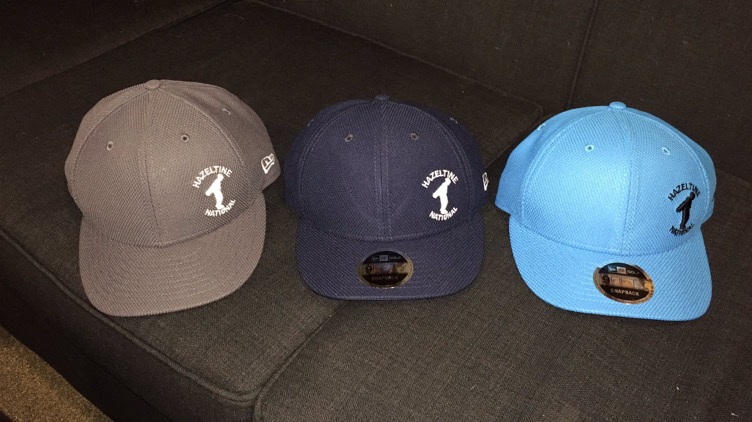 #hatnomination
Enter the #hatnomination. After introducing the team to our guiding principles, we put forth the blue hats as awards for those individuals showing special commitment to the guiding principles. Using a group messaging app, team members are able to nominate fellow team members for a hat reward. If one team member feels another has taken extra initiative, shown strong commitment, or come up with a particularly special innovation, they send a message putting forth a #hatnomination for their fellow employee(s). This initiative has proven an excellent way to have the entire team thinking and working in the same manner. Nominating a fellow team member has proven to be almost as rewarding, or even more rewarding, than being nominated. We all think about the right manner to work and we are all on the lookout for others working in the right manner. The results of which are the creation of a positive, enjoyable, self-maintaining environment.
Our staff shows up on time, works hard and has fun, and by concentrating on the creation of a great work environment, we've been able to realize our ultimate goal of providing a great golf course.