There was a time in golf when sand hazards, or bunkers they tend to be called today, were in fact treated as hazards. Maintenance practices were minimal and a player finding a bunker accepted their penance and "got what they got" in terms of a lie. Those days have passed and while there are still courses that provide minimum maintenance to their bunkers, Hazeltine is not one of these places.
Bunker Resources
Most golf course superintendents would tell you that after putting surfaces, the area of the course in which they spend the greatest amount of resources are the bunkers. I would wager strongly that here at Hazeltine, we spend greater resources on bunkers than on any other area of the golf course. Hazeltine has what I would call very formal bunkers: our bunkers are not intended to be presented with minimal maintenance practices. There is nothing wrong with this, but it must be accepted as fact and understood by both the turfgrass staff and the membership.
Since the installation of the Better Billy Bunker system, the turfgrass staff has worked extensively to present Hazeltine's bunkers in the best condition possible. While we continue to reap the benefits of no longer having to repair the bunkers after rainfall, we have found the resources placed towards daily maintenance have had to increase dramatically. This season, we are asking for the membership to help us present the bunkers in the best possible condition each and every day.
What You Can Do
When a golfer plays from a bunker, they are asked to rake the bunker and return it to a condition at least as good as they found it. Over the past couple of seasons, this raking is too often performed poorly, or not performed at all. This season, we are asking our members to make a conscious effort at improving the raking done after playing from a bunker.
Not only does proper raking leave a good surface for your fellow members, but it also makes the next morning's bunker work by the turfgrass staff all the more efficient. The more efficiently our staff is able to work in preparing bunkers, the more time we have to spend on other areas of the golf course. The raking job you do when you play from a bunker has a trickle-down effect to all areas of the golf course.
In order to help make raking easier, we've marked multiple areas around each of our 108 bunkers. These areas, marked by the wooden stake and ribbon shown here, identify two things:
Where the rakes should be placed.
Where golfers should enter and exit the bunkers.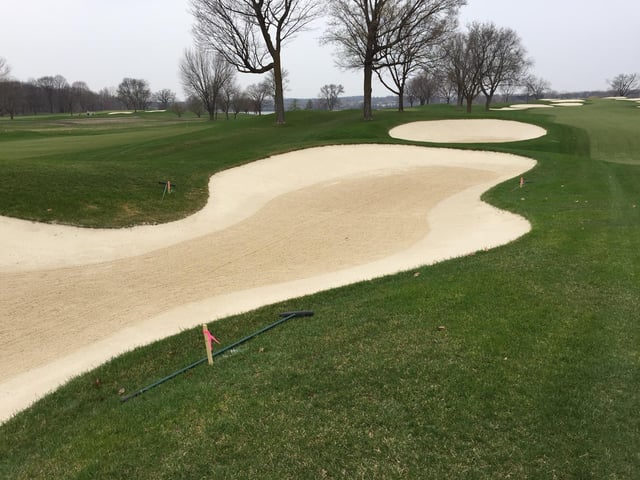 Enter/Exit Marked Locations Only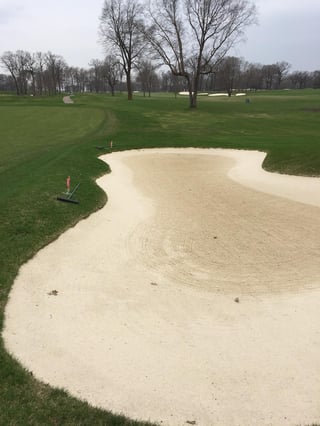 By entering and exiting in these locations only, golfers and caddies will find their raking efforts will be minimized. The areas we've marked are generally at the low point of the bunkers and when used, will keep golfers from having to walk up or down steep slopes to enter and exit the bunkers.
The turfgrass staff will place the rakes at these marks each morning and each golfer should then place the rake back in these areas after use. Since this is a new initiative, the stakes have been placed on the course in order to give golfers and caddies a strong visual reference point. After some time has gone by, we plan to remove the stakes. However, we will continue to mark these areas in white paint, with a small "T". As the season moves on, and golfers and caddies become familiar with and use these locations, we feel strongly the quality of our bunkers will improve.