Walking down the fairway at about 7:30am a few Sundays ago I was out for an early round with a friend. As the sun was rising, the dew sparkling on the grass and the glow of a breaking dawn, I turned to my buddy and said, "isn't this a great game?" And to that he responded, "it sure is and the friendships that you make last a life time." We smiled and kept walking towards the green where our next shot awaited play.
Learning to play golf is one of the greatest things I've ever done, professionally and personally. Golf is a game for life and when you consider the joy through relationships that are developed in golf you can begin to see why. Golf has bridged communication gaps between parents and adolescent children, it has introduced and forged lifelong friendships and yes, it has led to new business opportunities. The relationships are not forced and contrived, because a passionate golfer can appreciate another who shares his or her zeal for the game.
If you're considering starting the game of golf, returning to golf after being away or joining a private or semi-private club here are a few reasons why your investment in time and financial resources will be money well spent.
Family Golf is Family Time
I once interviewed PGA Tour golfer Tom Lehman who said, if you're a golfer with a young family, one of the best things you can do is to play as a family. Introduce your kids to the game, he said, and be patient so they want to stay with the game. Lehman's reasoning for this may surprise you - he acknowledges the time commitment and he explained that rather than having dad run off for his 5 hours away from home, get your family involved and make it family time together on the course. Over time, golf can bridge discussion and communication with your child. It's common ground and if you have a child in early teen years, you understand how difficult it can be to communicate with your kids.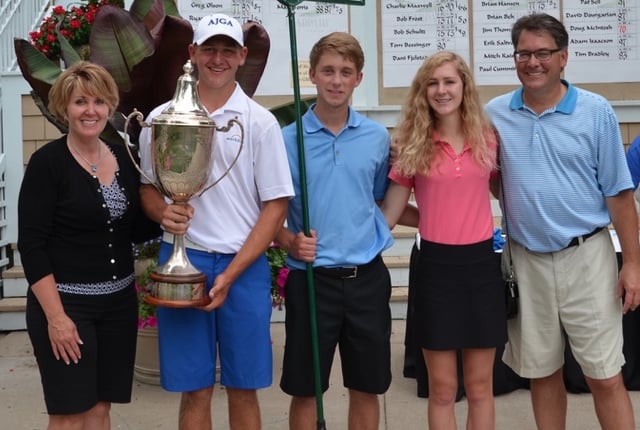 We subscribe to Lehman's belief and are raising golfers. My eldest son who is now 15 plays more than I do. Over the past few years he and I have spent more time with each other than most of my friends and their kids of the same age. We walk together, talk about life, and of course, golf. Regardless, this is time with my son that I'd otherwise not have with him. What's more, it's a game that he and I will share for the rest of our lives.
Golf Develops Lifelong Friendships
This year friends of mine, who I've known since elementary school, will fly into Minnesota for our 10th annual golf and fishing outing. We started the tradition shortly after the father's of many of us passed away. The sense of mortality surrounded us and we decided we needed to spend more time together as buddies. Golf has been a focal part of this trip as we play 72 holes over three days. The laughter, jokes and time spent with each other has been glue for friendships that are over 40 years old.
Beyond that, though, are the new friends that are made through golf. While it's always fun to play with pals, a passionate golfer also realizes one of the joys is to go out alone and get paired up with new people. In these unsuspecting times is where some of the most enjoyable relationships lie. Walking the course with someone you don't know may seem odd to some, but as a golfer, you realize it's an opportunity to share the game with someone new. You have the opportunity to bring someone new into your life that you didn't know before. We are social creatures and the golf course is, in many ways, the greatest stage for socialization!
Golf Builds Business Relationships
One of the many hilarious episodes of the television show, "The Office," the character "Jim" is on the golf course trying to conduct business. He is unaware of proper protocol and tries to have serious business conversations with his contact on the course. It's awkward and the contact wants to do nothing less than to talk business while he's playing golf. Put simply, business relationships that develop on the golf course happen over time. They are not forced and do not magically occur in one round of golf. Furthermore, if you approach a golf membership to a private club with the intent of only making business contacts to grow your "empire," you may be disappointed and you're sure to tick off others around you.
As is the case with any friendship, business friendships happen over the course of years after trust has been given and cared for. It happens when people are able to watch and learn how ethical, honest and tempered they behave on the course. Business relationships occur when you get a sense for the quality of the person. When this is displayed over time and trust is built, only then can you really leverage your golf rounds in a way that can benefit your business. That said, once you've created those relationships, they turn into friendships which transcend business, personal and family.
Is golf the be all, end all to family, personal and business relationships? No. There are many ways to create and develop these relationships. Yet, the beauty is that golf is a game for life. The young and old can play separately and together. Generational gaps are bridged, stories are exchanged and traditions passed down from generation to generation. If you don't believe me, get in the game and see for yourself.
Hazeltine National Golf Club is a private golf club located in Chaska, Minn., about 30 minutes southwest of downtown Minneapolis. The club opened in 1962 with a mission to build and maintain a golf course suitable for the conduct of national championships. Hazeltine is one of only two courses in the United States to have hosted the U.S. Open, PGA Championship, U.S. Senior Open, U.S. Women's Open, U.S. Amateur, and Ryder Cup. Hazeltine's meeting and event space, golf shop and specified services in the learning center are open to the public. More information about becoming a member at Hazeltine is available at www.hazeltinenational.com.
Topics: Golf Tips