Typically when you have the word, or derivation of the word, shamble in the same sentence as golf, it's something like this: "My golf game is in shambles!" However, if you've ever been invited to play in a corporate or charity golf outing you may have heard the term "Shamble," and you scratch your head and say, "hmmm, what is a Shamble in a golf event?"
A Shamble or Scramble? That is the Question!
So glad you asked! For many, a Shamble is the perfect format alternative for the standard, "Scramble" format. Are you completely confused? Our assistant golf professional Chris Baisch explains in this video clip:
If you've ever played in a big golf event, you're probably familiar with a "Scramble." This is when all golfers tee off and the person with the best, or most preferred shot, is played by all golfers. They each hit their shot from that location and the same routine ensues - the best shot is selected and all golfers play that shot until the ball is holed out.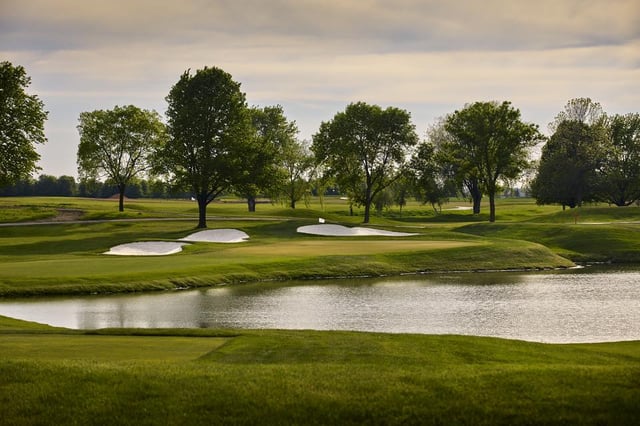 In a "Shamble," each golfer tees off and the best shot is selected, but from that point, each golfer plays his or her own ball until it is holed out. What's fun about a Shamble format is that each person gets the benefit of the best drive, so they typically start out with a nice advantage (assuming there's a big hitter in the group)! In either case, the format is intended to be fun and relaxing for all golfers, whether high or low handicappers.
Next time you're putting together your golf event, consider a Shamble format. you'll find it's a fun alternative for golfers who really want to feel like they're playing the course as individual golfers.
Hazeltine National Golf Club is a private golf club located in Chaska, Minn., about 30 minutes southwest of downtown Minneapolis. The club opened in 1962 with a mission to build and maintain a golf course suitable for the conduct of national championships. Hazeltine is one of only two courses in the United States to have hosted the U.S. Open, PGA Championship, U.S. Senior Open, U.S. Women's Open, U.S. Amateur, and Ryder Cup. Hazeltine's meeting and event space, golf shop and specified services in the learning center are open to the public. More information about becoming a member at Hazeltine is available at www.hazeltinenational.com.