For years we've celebrated our sports heroes. We've admired their commitment, paid respect for tenacious effort and we have celebrated the brightest moments, in both success and failure. Nowhere is this practice more alive than in amateur sports and it lives vividly at the end of each high school sports season when we celebrate our athletes with a season ending sports banquet.
Tips for Hosting a High School Sports Banquet
The stars of the show are usually the senior athletes, but the trick is making all of the athletes feel special - after all, they've all worked hard through the season. Jan Hillius, from Hazeltine National Golf Club in Chaska, MN, offers a few tips and suggestions for those who are planning a high school sports banquet.
Here are some more suggestions for making your high school sports banquet memorable:
Decorate with team uniforms
There's nothing more personal for an athlete than the uniforms and equipment they take into battle. They wear their gear with tremendous pride and putting some of these items on display at the banquet conjures up memories and inspiration. One of our favorite ideas is to use jerseys or sweat suits (washed, of course) as chair covers.
Fill the space with team color
This is straightforward, but rather than just hang a couple streamers and have a banner, put a committee together and take over a space with team colors and paraphernalia. "Own" the space and make it feel like an extension of your school spirit.
Make the kids the stars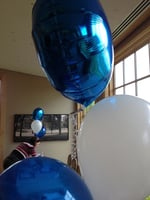 So often high school banquets are bogged down by parent co-chairs, coaches and assistant coaches who all want to pass on sentiments about the season, pass on "props" for coordinating the event, etc. Of course, this is important to do, but our recommendation is to keep it brief and be sure it's directed towards the student athletes. Make sure there is ample, yet controlled, amount of time for the kids to reflect on the season. Usually the kids provide the most entertaining moments of the evening.
Produce a highlight video
As Jan Knudtson, Hazeltine's Catering Manager, mentioned, kids love pictures and every kid loves to see themselves on the big screen and if you've attended a high school sports banquet, you have sat through many of these. First, be sure your venue has audio/visual equipment to support the video and test it ahead of time for audio levels. Secondly, keep the video brief and uplifting. If possible keep it 5-7 minutes in duration. Let the gathering know how long the video is, so they have the right expectation. So often, this part of the program drags on with no end in sight and you want to be sure you leave your families inspired!
Players tables
While it's all about the team, set up designated "team tables," that are a little larger than the others so all the kids can sit together at one table. If it's a high school football banquet, this could be difficult, but perhaps you can break them up. Create a Captain's Table, a Senior Table, Junior Table, etc. Or maybe you can break up the group by positions they play. Regardless, try to create a unique environment in which the kids can celebrate together.
Hazeltine National Golf Club is a private golf club located in Chaska, Minn., about 30 minutes southwest of downtown Minneapolis. The club opened in 1962 with a mission to build and maintain a golf course suitable for the conduct of national championships. Hazeltine is one of only two courses in the United States to have hosted the U.S. Open, PGA Championship, U.S. Senior Open, U.S. Women's Open, U.S. Amateur, and Ryder Cup. Hazeltine's meeting and event space, golf shop and specified services in the learning center are open to the public. More information about becoming a member at Hazeltine is available at www.hazeltinenational.com.
Topics: Sports Banquets