As winter turns to spring in Minnesota, we prepare for a long, sun-filled season on the golf course. Our members are beginning to ready their game, honing their skills in the practice area and prepare to make this a season to remember. This is also the time that many golfers begin to entertain joining a private golf club. The challenge is finding the best private golf club for you...and your family. Here are a few things you might want to consider in your search:
Members who are similar to you
This may be the single most important factor in selecting a club for you and your family. Is the membership the same age? If you have a family, you'll want to make sure there are others who are at the same place in life. This can make the club more enjoyable for you and your spouse, as well as for your kids.
Social events for golf members
Not only are social golf events fun, they're a wonderful way to make new friends on the golf course. Be sure to find out how many events are held at the club you're considering. Depending on your skill level, you may want a facility that holds highly competitive events as well as fun, social events for couples and families. A steady schedule of these events provides opportunities to enjoy the game and the company.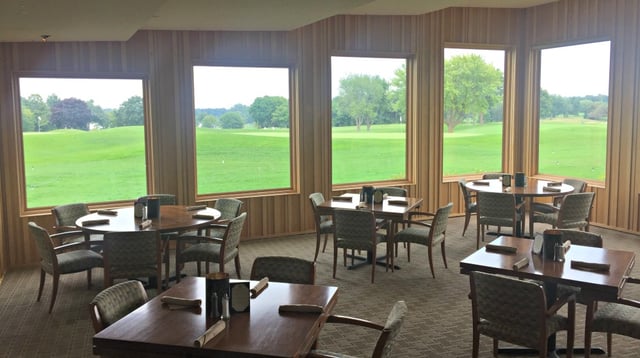 Golf facilities and dining
Golf clubhouse and dining room
As a golfer, you want to enjoy the golf course however, you'll also spend a considerable amount of time in and around the clubhouse. Given most private golf clubs also require a food minimum you'll want to make sure the food is excellent. What's more, if you plan on entertaining guests at your new club you want to feel a sense of pride in the golf course, the clubhouse and the service.
Love the golf course
Love the golf course! Love the course so much you could play it twice a day, every day of the season. Love it so much that you want to learn the entire course and every shot by heart. This will be your home course - where you'll compete, laugh and spend time with family, friends and possibly clients. You would be surprised how many golf members get tired of their golf course after a few rounds. Remember, you're investing in a golf membership so, again, love the golf course!
Knowledgeable golf staff
Make sure the golf club you're considering has a staff that fits your personality. If instruction is important to you, talk to one of the golf professionals or even book a lesson with them to see if you're compatible. Ask them what they love about the golf course and learn what they believe makes a fabulous golf experience. These are people you'll interact with each time you hit the course. It's not imperative that you're buddies, although it's always nice when the club pro is someone you trust and respect.
If this is your first experience joining a private golf club, remember it's difficult to cost justify the investment. After all, it's just that - an investment. An investment in your family, your children, friends and business. What matters is that you find a private golf club that fits you and your family so you can enjoy every minute of your membership.
Hazeltine National Golf Club is a private golf club located in Chaska, Minn., about 30 minutes southwest of downtown Minneapolis. The club opened in 1962 with a mission to build and maintain a golf course suitable for the conduct of national championships. Hazeltine is one of only two courses in the United States to have hosted the U.S. Open, PGA Championship, U.S. Senior Open, U.S. Women's Open, U.S. Amateur, and Ryder Cup. Hazeltine's meeting and event space, golf shop and specified services in the learning center are open to the public. More information about becoming a member at Hazeltine is available at www.hazeltinenational.com.
Topics: Golf Tips