You don't have to belong to a country club to enjoy a great party at a golf course. Events at golf courses these days go beyond country club events. In fact, it's hard to find a better combination of scenery and facilities than a golf club. So, here's a look at how you can host a memorable golf course party.
One-Stop Shopping
There are many reasons to have your party at a golf course. For one thing, so many of the little details are taken care of for you. You don't have to worry about party setup and cleanup, spend hours shopping, planning and cooking all the food. Having the venue take care of so many of those things can give you a chance to actually enjoy the party.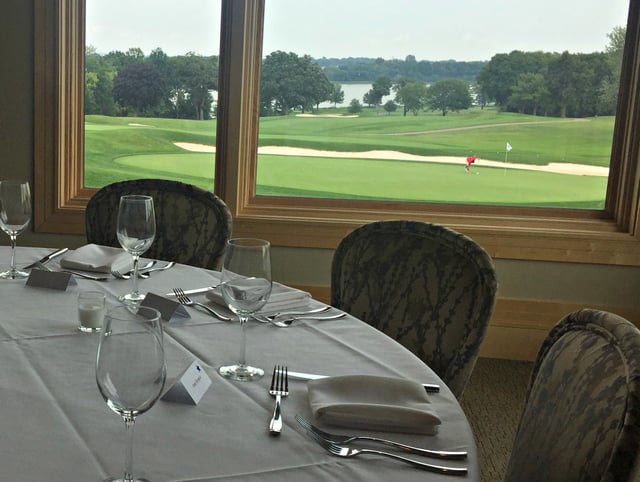 One of the great things, too, is that a golf course automatically provides a great backdrop for the party. The gathering won't just be in some windowless party room at a hotel. Guests will be able to enjoy looking out at the glorious greens, fairways, trees and water. It works for all seasons, really. Spring and summer bring out the green and blooming colors, while the leaves on the trees will provide a rainbow of color during autumn. Winter should not be a deterrent, either; just imagine a few inches of freshly fallen snow on the course. In Minnesota, that's a thing of beauty.
Plan Ahead
You'll want to get a planning committee together and work with the venue to plan out what you will need for your party. Figure out a potential guest list so that you know how much space will be suitable, whether it's a ballroom or a smaller banquet room. That will also help with your cost estimations.
Depending on the type of party, it might be good to come up with a theme, too. You can decide on specific decorations and work with the venue staff to figure out how much decorating you can do. Golf courses should be able to provide help with the food, with on-site chefs or catering. You can work with them on the menus or food items you'd like to see at the party. Figure out what type of entertainment might be right for the party. Bands, DJs, quiet piano, inviting a speaker, games – all great options. Make sure it's something that sets the right mood and will appeal to the audience – your guests.
Many Options
Not sure what would make a good golf course party? There are plenty of options: Graduation parties, bachelor/bachelorette parties, weddings, sports banquets, retirement parties, holiday parties, open houses, bar/bat mitzvahs, family gatherings, bridal showers and galas.
Hazeltine National Golf Club is a prime spot to consider for your next party. The scenery is gorgeous, with an exquisite golf course, plus a great choice of rooms for either intimate or larger gatherings. From a beautiful foyer to panoramic views of the golf course to great on-site food options, Hazeltine is sure to make your next party the best ever.
Hazeltine National Golf Club is a private golf club located in Chaska, Minn., about 30 minutes southwest of downtown Minneapolis. The club opened in 1962 with a mission to build and maintain a golf course suitable for the conduct of national championships. Hazeltine is one of only two courses in the United States to have hosted the U.S. Open, PGA Championship, U.S. Senior Open, U.S. Women's Open, U.S. Amateur, and Ryder Cup. Hazeltine's meeting and event space, golf shop and specified services in the learning center are open to the public. More information about becoming a member at Hazeltine is available at www.hazeltinenational.com.
Topics: Sports Banquets, Galas, Events