When Chad Hunt joined Hazeltine in the summer of 2014, golf was definitely on his mind: improving his game, meeting like-minded golfers, playing more with his now 14-year-old son, and getting a front-row seat (literally) for the 2016 Ryder Cup. But like many members, he also hoped a Hazeltine membership would pay off for his business.
Now, in his third year as a member, Chad is enjoying the membership even more than he expected — as he explained in our last blog — and the business benefits keep growing. "I would say it has surpassed any expectations that I ever had, or ever even thought about," he says. "I really didn't understand how powerful an impact that this place could have on my business."
Business Plan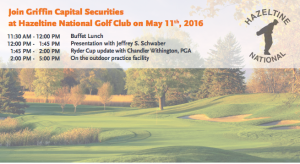 Chad realized clients would get excited about playing the course — and they have, often changing plans just to join him — but it took hosting his first big event, a lunch and learn session for more than 70 clients, to fully appreciate the allure of Hazeltine. "When I invited people to this event, that they were willing to drop just about anything to attend," he says.
"Obviously putting out an invitation where the Ryder Cup is being played this year was a big deal," he noted, explaining why clients drove 60, 70, even 90 miles to be part of his event.
"People wanted to come and check the place out," he says, "there's the curiosity factor there. And I was hosting a very dynamic presenter and leader of our company, so we had plenty of honey to catch the bees, if you will."
The Big Event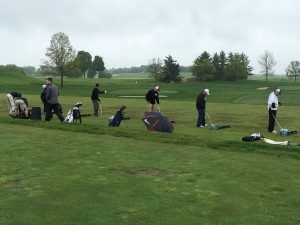 The only issue — and it was dealt with deftly by the staff — was the weather. "We had the event on Wednesday, May 11th, and had a weird weather pattern," he says. We knew it was going to rain, but we didn't know when," So, we switched the agenda, sending guests outdoors for golf two hours early, before the presentations.
"The golf staff, the event staff, and everybody at Hazeltine was absolutely amazing, getting things turned around when we weren't supposed to be out on the course until about 2:00," he says. "They got everybody out there early for the lessons, they got through all three stations, had ample time to learn and practice, and it just misted for maybe 15 minutes before they got everything in."
Chad said the guests really appreciated the flexibility, because right after they moved inside for the presentations, it started to pour.
Clinical Results
And what was the reaction to the lessons themselves? "I want to thank the golf staff for the amazing job they did for our on-the-course clinics," he says. "They were all dressed the same and it was noticed! The caliber and quality of the demonstrations and the hands-on learning were so well received and appreciated. I got and am still getting multiple thank you emails, hand-written personal notes, and voicemails!"

He says Hazeltine's six PGA pros broke down the lessons into three stations. "Chandler Withington and Adam Chandler handled a station for putting, Andy Smith and Mike Barge were in the full swing area, with Chris Baisch and Nick Sage in the chipping and bunker range.
"People had a chance to hear, to listen, digest, and then to actually put the club in their hands, and then do it. And everybody just walked away with something they could apply the next time that they play golf, and that was the goal," he says. "And what's going to be cool about that is when they're using that stuff, who are they going to think of?"
Great Reaction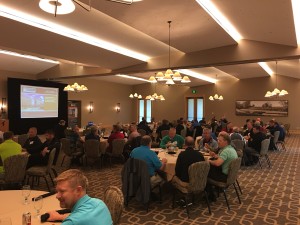 Chad says his guest raved about everything, from the golf course to the clubhouse, where the food and hospitality were top-notch. But his personal shout-outs start even earlier, with the help he received before the event.
"Nick Sage was a HUGE help in getting my invites put together as he had many high-quality images of the course that made for a really attractive marketing piece to help drive attendance at my event. The event staff was super helpful in being flexible and assisting me in setting up the day of my event. It was an overall 1st class experience!"
Needless to say, Chad says he's already looking forward to hosting another event next summer.
Hazeltine National Golf Club is a private golf club located in Chaska, Minn., about 30 minutes southwest of downtown Minneapolis. The club opened in 1962 with a mission to build and maintain a golf course suitable for the conduct of national championships. Hazeltine is one of only two courses in the United States to have hosted the U.S. Open, PGA Championship, U.S. Senior Open, U.S. Women's Open, U.S. Amateur, and Ryder Cup. Hazeltine's meeting and event space, golf shop and specified services in the learning center are open to the public. More information about becoming a member at Hazeltine is available at www.hazeltinenational.com.

Topics: Meetings, Member Stories