Jordan Ryan captured his third Men's Club Championship title in 2017, and has every intention of holding onto it in 2018. He explores his love/hate relationship with 18, explains why next season is always the best, and shares some golf goals for the coming season.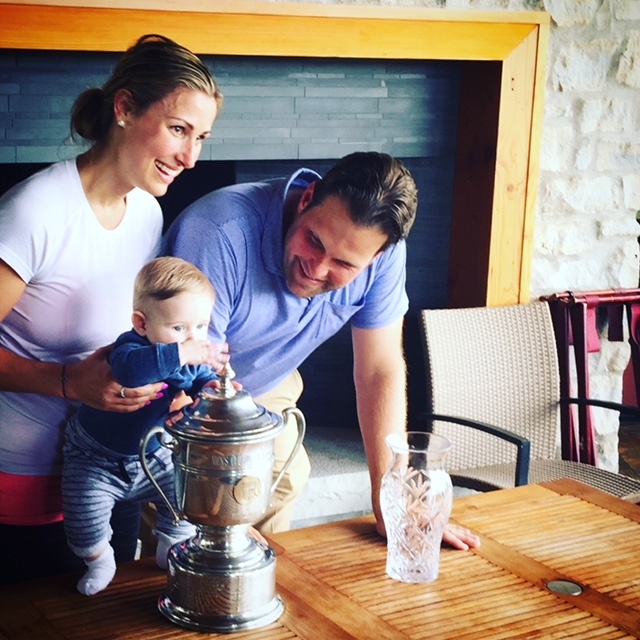 Christine, Harvey and 2017 Men's Club Champion, Jordan Ryan.
What is the hardest part about playing in the Club Championship?
The anticipation and permanence of the event. We have 363ish days to prepare, but if you get a case of the snipes or a frozen putter - it can be an early lunch buffet. It requires your full attention, but you can't get too worked up about going 2DN thru 4. Somewhere between devil-may-care and laser focus is where you'll find success.

What do you feel is the toughest hole at Hazeltine to play under pressure?
#18. It's an incredibly challenging hole to birdie when chasing, and par is well earned with the lead. I have witnessed miracles and tragedies on that hole. I have broken my foot on that hole. I hate that hole, but in a good way.
What is the single most important part of your game to practice?
The correct answer is chipping/pitching, but I don't spend a lot time grinding on my game these days so the 15 minutes pre-round have become crucial. Obviously I'm trying to get the big body loose, but I'm also paying attention to where my swing bottoms out, and the conditions of the golf course. Is the bunker sand heavy from the morning dew? Do I have the chip yips so I need to practice my mega-lags? Setting realistic expectations is just as important as an evening bashing balls.
How is the pressure of playing in the Club Championship different than other tournaments?
I love our format of a match-play Club Championship, but it took me a few years to get comfortable. It's more about crunch time than first tee jitters and cleaning up three footers. While par will always be rewarded at Hazeltine, match-play lends itself to bold golf. Bold golf, not stupid golf—there's a difference.

Three generations of Hazeltine golfers: Jordan, Harvey and Jim Ryan.
What other goals do you haves in golf?
My favorite thing about Minnesota golf in winter is we're all going into our best season ever. It's a game that inspires dreams and goals. A few of my goals going into the 2018 season:
Make the field of 32 in my first USGA event (Four-Ball), ride Scott Gustafson to greatness.
Compete and contend in this year's MGA State Amateur being held at Hazeltine.
Defend the HNGC Club Championship.
Play more golf with my family
Have fun — it's just golf!
Hazeltine National Golf Club is a private golf club located in Chaska, Minn., about 30 minutes southwest of downtown Minneapolis. The club opened in 1962 with a mission to build and maintain a golf course suitable for the conduct of national championships. Hazeltine is one of only two courses in the United States to have hosted the U.S. Open, PGA Championship, U.S. Senior Open, U.S. Women's Open, U.S. Amateur, and Ryder Cup. Hazeltine's meeting and event space, golf shop and specified services in the learning center are open to the public. More information about becoming a member at Hazeltine is available at www.hazeltinenational.com.
Topics: Member Stories