When you lose a loved one, a light extinguishes in the world. A celebration of life ceremony offers an opportunity to share the personal memories that will remain with you, even though the person you love has passed on. Over the past year, many families have faced the additional challenge of paying tribute to their deceased while not always being able to physically gather in groups. Still, because each celebration of life reflects the wishes of your loved one and those who remember them, no guide exists explaining the right or wrong way to honor a life. With that said, we hope the following ideas will help inspire your planning.
A formal reception for group refreshment and healing
Formal funeral services can be extremely emotional, as people process feelings, deliver eulogies, listen to stories, and grieve together. After the ceremony, it can be nice to organize a reception for guests to unwind after the service and enjoy some food and casual visiting with friends and relatives. The location of the service determines where you'll meet for refreshments afterward. In most instances, this might be at the banquet hall of the service, a church basement or hall, or even a local restaurant for a meal or appetizers. However, as with the many events that have been held virtually over the last year, a reception can also be held over Zoom or other webinar platform.
If it is safe to do so and you are able to gather physically, it can be nice to serve the favorite foods of the deceased at the reception, or encourage people to enjoy a certain recipe or cuisine from their location. This after-service time is also a good place to provide guestbooks to sign and set up memory tables (or virtual show and tell) with memorable items of your loved one, including a homemade memory board or a slideshow. Again, during this digital age, all of these kinds of programming can also be conducted virtually.
A musical memorial service to share art, stories, and memories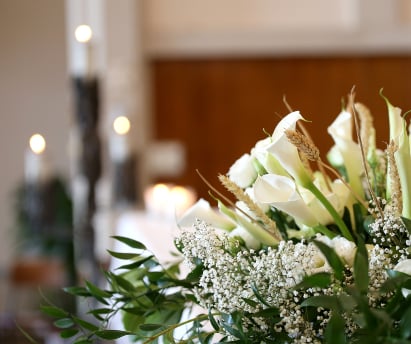 Whether virtually or physically, one meaningful way to celebrate a loved one is through inviting the people who knew them to share their memories. For a more structured feeling to the program, you might ask a clergy member, family, or a close friend to lead the event, and then invite additional speakers to talk about the person's life, dreams, aspirations, accomplishment, hobbies, and family life.
Another important component to a celebration of life program is providing music or other art forms. Throughout human history, people turn to the arts to process difficult feelings and find solace in the feelings articulated through art. Consider what readings and music should be part of the service and choose selections beloved by the person you're celebrating, or have some spiritual versus, poetry, or literature to read aloud if music wasn't an important part of their life.
[Read: Memorial Service Checklist: Your Guide to Planning a Celebration of Life]
Also, showing the meaningful moments of a person's life can offer a sense of closure and healing. Consider compiling a tribute videos or a slideshow to really capture the essence of your loved one. The details of the celebration will always vary because this program will be deeply personal.
A casual gathering of friends and relatives
Sometimes, you might prefer to simply provide a space to gather. Again, this space might be a hall or event room, or it could be hosted on a web platform where you invite individuals located from around the country or even world to join. Whether physically or virtually, talking, laughing, and remembering the good times can feel more like a party than any kind of formal ceremony – something your loved one would certainly appreciate.
In this sort of celebration, the personal touches make all the difference. It can be an intimate gathering of a few friends and relatives sitting around the living room with appetizers, or it can truly be a party organized at a public outdoor space like a park. To put guests at ease, have some soothing, heartfelt songs playing in the background, or consider bringing in a DJ or band if safe to do so.
As a special touch, give guests seeds to take home and plant, so people can remember their loved one as the plant grows. Or consider giving out favorite recipes, candies, or poems for guests to take home with them.
Whether you hold a funeral, a musical program, or an informal gathering time with friends and family, the space and time becomes a sacred moment where you remember the light of your loved one and all the joy and good they accomplished during your time together in this life. Although these times may feel dark, sharing these memories and moments with others who sympathize and empathize can provide warmth, comfort, and light in the darkness.
Hazeltine National Golf Club is a private golf club located in Chaska, Minn., about 30 minutes southwest of downtown Minneapolis. The club opened in 1962 with a mission to build and maintain a golf course suitable for the conduct of national championships. Hazeltine is one of only two courses in the United States to have hosted the U.S. Open, PGA Championship, U.S. Senior Open, U.S. Women's Open, KPMG Women's PGA Championship, U.S. Amateur, and Ryder Cup. Hazeltine's meeting and event spaces, and golf shop are open to the public. More information about becoming a member at Hazeltine is available at www.hazeltinenational.com.
Topics: Member Stories