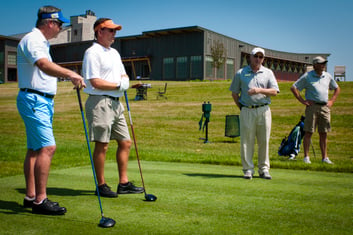 Friendships are, more often than not, built over a common bond. That could be a favorite sports franchise, love of the outdoors, or simply who you work for. The golf community, in particular, is well-known for being at the center of many meaningful friendships.
If you're looking to make a new friend, or just appreciate friendly conversation while enjoying the outdoors, golf can be the perfect catalyst.
What Makes Golf So Different?
Golf is a sport for everyone. It doesn't matter how old you are, how many times you play per year, or how expensive your clubs are. Golf means something different to everybody, and it's the shared respect of that very fact that makes it so easy to bond over.
Part of what makes golf so appealing to such a wide variety of people is that you can take the game any direction you want. Some people choose to take it as a personal challenge and work tirelessly to improve their game, while others play once a week with friends as a way to catch up while getting some fresh air.
The game of golf is an extremely social sport, by nature. Consistently getting out and playing golf will give you the chance to meet tons of new people. Having this opportunity is one of the most significant perks of being a member of a golf club.
There is no one right way to enjoy the game of golf. It's up to you to find what brings you the most joy and fulfillment.
Getting Paired with Strangers
For most people, the idea of having to play golf with strangers, regardless of your skill level, can bring about some anxiety. No one wants to embarrass themselves on the course or feel like a burden to the other players in your group. While this feeling isn't uncommon in the golf community, it's important to remember that golf really is just that — a community.
Every golfer knows that at one point, it took them six or seven shots to reach on a par four. No one is there to make you feel bad about your abilities as a golfer. Once you take that leap of faith, you'll see playing with a new group of players as an opportunity to learn and make personal connections. Who knows, maybe that group you were randomly paired with will end up being the same group you end up playing with every Sunday morning for the next 15 years.
Joining a League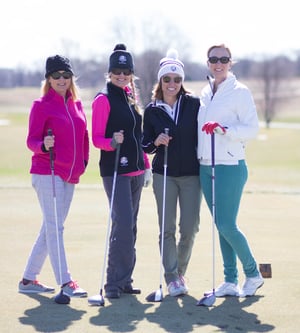 Golf leagues are a phenomenal opportunity for golfers of all skill levels to get out and play golf with other individuals. One of the biggest attractions of golf leagues is that you are usually going to be paired with people of a similar skill level, which helps alleviate that initial pressure that people often feel when playing with others.
Clubs typically offer a wide variety of leagues for its members, ranging from golfers who are new but want to improve their game, to those who are just looking to socialize and get some exercise. A league creates a welcoming environment where you can meet new people and bond over golf.
Whether you've been playing since the age of four or you just bought your first set of clubs this year, you will have no trouble meeting friendly and welcoming people out on the course – and you'll probably walk away with a few new golf friends, to boot.
Topics: Golf Tips