Displaying a photo or memory board at a Celebration of Life, Memorial Service, or Funeral helps mourners remember and celebrate the life of your loved one. The process of creating a memory board can also provide support as people gather to help.
Consider not only photos, but quotes, sayings, and summaries that help give character and context to who you are memorializing. Often, the final product is a board, or boards, of the images and text on a poster board, which is displayed on an easel.
Here are some guidelines for assembling the right contents and organizing them into the well-rounded representation of your loved one.
Enlist help
Invite family and close friends to help with this project. You'll find that people are willing to lend a hand. Gathering a small group of family and friends together for this project can be a supportive way to remember your loved one and share stories and memories, before the celebration of life or memorial service.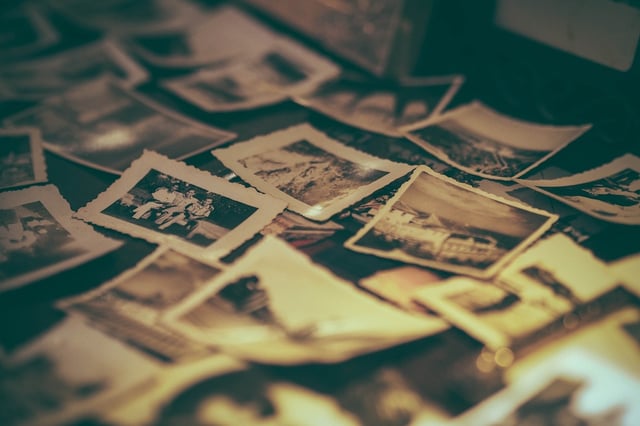 Ask friends/relatives for photos
Send an email or call extended family and friends to see if they have photos to share, particularly if you know you are lacking photos of certain memorable events or photos that capture the everyday life of this person. Ask them to send only copies that don't need to be returned, or to send them electronically so you can print your own copy.
If appropriate, use social media to help find old and current friends or out-of-town family members. Starting private Facebook groups or threads on other social media accounts can help you respectfully find contributors.
Include small memorabilia
Beyond photos, you may wish to gather certain small memorabilia which can be placed on or near the memory board. These could include ribbons or medals earned, diplomas and degrees, citations and awards, trophies, tickets, programs, etc.
Organize photos
There are many ways to organize photos on a memory board. You may find one board fits a theme or chapter of a person's life. Or perhaps it's more appropriate to maintain an unexpected or random lineup of photos and mementos.
Random – Group a wide variety of photos together in no particular order. Choose your very favorites that you feel capture the essence of the deceased.
Chronological – Begin at the beginning with baby pictures, and progress through childhood, school photos, wedding, children, etc., throughout their life.
By Life Phase/Interest – Though this can be similar to chronological, this method groups different aspects of the person's life together. For example, create photo groups for family, education/graduation, military service, career or volunteer work, hobbies, etc.
Curate
Hopefully, you've gathered an abundance of photos and memorabilia. Once you've had a chance to organize items, decide how many to include. Perhaps all or maybe a selection of favorites. How much you want to transport and the amount of space for display are the only limitations for how much to include.
If you're working with original photos and other materials, determine whether to make copies or use the originals.
Lay out design
Now that you have an idea of what to include and in what order or groupings, lay out the materials on your poster board. You may find that you want to further edit what's included, or that you'd like more.
Consider labels to tell the person's story. You don't need a label for every picture, but you might want to give a general idea of when, where or why a photo was taken. For example, below a group of hunting and fishing photos, you might type up:
"John always loved the outdoors, from his childhood at the family cabin on Square Lake to hunting trips with his good friend Joe and children Ryan and Becky."
Or under school photos, you might include:
"John attended K-12 in South Minneapolis before heading to the University of Minnesota where he graduated in 1962 with a degree in Business."
Or you may choose to include a simple name, location, and date for certain photos.
Include the small memorabilia where appropriate. Slightly larger items, like sashes, ribbons, or trophies can be hung on the corner of the board when it's on display or placed on a nearby table or stand.
Affix photos
When you are pleased with the layout, affix the items to the board. When possible, use a copy of a photo so you can use a strong adhesive, like Easy-Tack or glue sticks, which will keep the item in place, but may make it difficult to remove intact.
If you want to remove the items from the poster board later, consider using photo corners. Keep in mind that because this method allows for removal, you'll need to be very careful during transport and set up to ensure that photos and other memorabilia remain affixed to the board.
Cover and transport
Use a plastic lawn & leaf bag to cover the memory board and protect it during transport. Lay the board flat in the trunk of a car or back of an SUV for best results while transporting to the display location.
Display
Place the poster board on easels in the venue. Place slightly larger memorabilia and framed photos on nearby tables and stands to complete the memorial display.
Supply list
Photos, copies of photos
Poster Board(s)
Easel(s)
Adhesive – glue stick, spray tack or photo corners
Label maker, printer or neat handwriting
Any additional embellishments, memorabilia, decorations
Hazeltine National Golf Club is a private golf club located in Chaska, Minn., about 30 minutes southwest of downtown Minneapolis. The club opened in 1962 with a mission to build and maintain a golf course suitable for the conduct of national championships. Hazeltine is one of only two courses in the United States to have hosted the U.S. Open, PGA Championship, U.S. Senior Open, U.S. Women's Open, U.S. Amateur, and Ryder Cup. Hazeltine's meeting and event space, golf shop and specified services in the learning center are open to the public. More information about becoming a member at Hazeltine is available at www.hazeltinenational.com.
Topics: Events